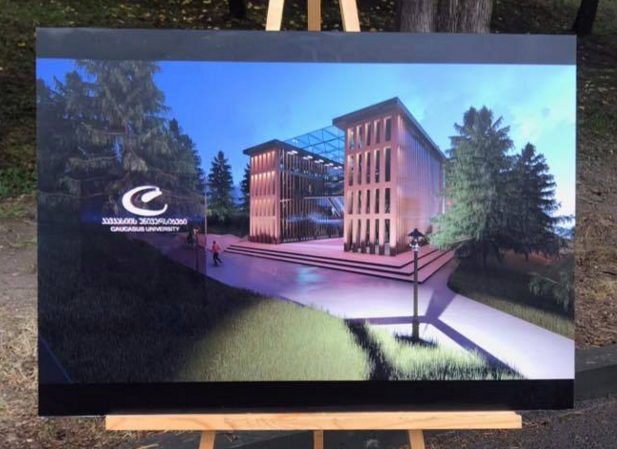 by Samantha Guthrie
15.10.2018. This weekend, Caucasus University announced that it will expand, opening a new campus in the town of Gurjaani to be called 'Caucasus Wine University,' which plans to accept its first class of students in the 2020-2021 academic year.
The announcement was made during the 2018 Gurjaani Wine Festival. Member of Parliament, Gurjaani Majoritarian Davit Songhulashvili presented the project to the Minister of Education, Science, Culture and Sport of Georgia, Mikheil Batiashvili, Head of the National Tourism Administration Giorgi Chogovadze, and other guests. Songhulashvili and representatives from Caucasus University, including founder and president Kakha Shengelia, presented a series of digitally rendered images of the new campus design, a modern, glassy, oversized take on a traditional Kakheti winery, resembling the Chateau Mere and Schuchmann Wines Chateau buildings.
The 2018 Gurjaani Wine Festival presented more than 100 varieties of traditional qvevri wines from both large companies and small family-owned cellars. The festival was held within the framework of Georgian Wine Week, supported by the Ministry of Environment Protection and Agriculture, the National Tourism Administration, and the National Wine Agency. Gurjaani's festival was implemented by MP Songhulashvili and his staff. The festival was designed to promote the development of wine tourism and introduce wine culture and local traditions to international and domestic visitors.
Gurjaani is a town with a population of approximately 8,000 people in the eastern Georgian region of Kakheti. It is 40 minutes from Telavi, the regional capital, and 30 minutes from popular tourist destination Sighnaghi, but does not have a significant tourism industry itself. Gurjaani has a long tradition of wine and viticulture, located in the fertile Alazani River Plain. The town's history dates back to the 16th century, and has several significant landmarks, including the house-museum of actress Nato Vachnadze and the early medieval Kvelatsminda Church – the only two-domed church currently standing in Georgia.
Caucasus University is one of Tbilisi's largest and most prestigious institutions – and one of the most expensive. The high tuition cost funded the new Tbilisi campus, relocated from a cluster of older high rises in the Saburtalo neighborhood to a stunningly renovated Orthodox Christian seminary, built in 1909, in Svanetis Ubani (Svaneti Neighborhood), near the New Aghmashenebeli area.
Caucasus University began in 1998 with the establishment of the Caucasus School of Business by Kakha Shengelia. The school was expanded into Caucasus University in 2005 and now includes ten schools: Business, Law, Media, Technology, Governance, Humanities and Social Sciences, Tourism, Medicine and Healthcare, New Cinema, and Economics. It is currently unclear whether Caucasus Wine University will be considered a tenth school or a separate institution. Caucasus University's stated priorities are "high-quality education, high employment rate of its graduates, international exchange, and dual programs."
While Caucasus University representatives have not yet released detailed information on their plans for Caucasus Wine University, the decision to open a campus outside Tbilisi is significant. The shift will increase access to formal education for rural populations in the Kakheti region and expand the knowledge and technical expertise collected in the capital to more of the Georgian population. There has recently been an increased push by the Georgian government to professionalize the national wine industry, particularly to strengthen export possibilities to the European Union and beyond. By car, it takes about an hour and 45 minutes to travel between Gurjaani and Tbilisi.
The First Saperavi World Prize: RESULTS