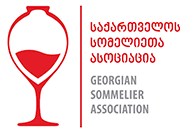 18.10.2018 (Hvino News). On October 20 - 21, for the first time in Georgia the competition "Best Sommelier of Georgia – 2018" will be held within the frame of Georgian wine days
"Gvinobistve"
, organized by Georgian Sommelier Association and the National Wine Agency of the Ministry of Agriculture of Georgia.
Professional sommeliers, who are officially granted under international standards the status of Sommelier or Assistant Sommelier by Georgian Sommelier Association, will participate in the competition.
The competition will have a highly qualified jury, including foreign members, and the chairman will be the President of Georgian Sommelier Association, the founder of "Marani Khetsuriani" Mr. Shalva Khetsuriani.
The selection round will take place on October 20, and the final round will be arranged on October 21 at 18:00 at the Republic Event Hall, at which the Best Sommelier of Georgia - 2018 will be revealed and the official award ceremony will be held.
The winner will be awarded the Cup of "Best Sommelier of Georgia", as well as special prizes and presents of different wine producers.
In March 2019 the Best Sommelier of Georgia - 2018 will travel to Belgium, where he/she will compete in the name of Georgia at the Best Sommelier of the World Competition.
Date/Time and place of the event: October 21, 18:00. Arrival time: 17:30, at Republic Event Hall, 2nd floor, event space. Address: Republic Square #2 - Former "Andropov's ears", opposite to Radisson Hotel.
Georgian Sommelier Association (GSA) was founded in 2003, and since 2014 it is the full member of International Sommelier Association (ASI). Georgian Sommelier Association is the official provider in Georgia of WSET international qualification in wine education.
Contact persons: Nato Gubeladze 599 107794; Nestan Mikadze 557908884
Press Release
The First Saperavi World Prize: RESULTS