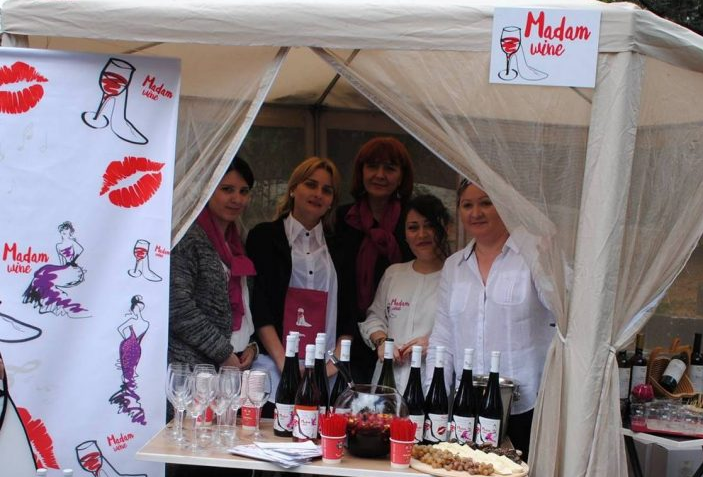 16.07.2018. With funding from the European Union and its EU4Business initiative, the EBRD's Advice for Small Businesses programme has helped an all-women Georgian wine producer to grow its presence online and increase visibility to attract new clients and explore new export markets. As a result, the company has boosted its outreach and found clients both on domestic and foreign markets.
As one of the oldest wine-making countries in the world, it is little wonder that Georgia is home to so many wine producing companies. But MadamWine is a unique winery, where the founder, manager, staff, and wine-maker are all women.
Although the company targets women customers with specific types of wine, men also favour the brand's distinct taste. Being a small wine producing company, MadamWine does not have its own production facility.
MadamWine had been represented at various local and international exhibitions, with samples sent to South Korea, Japan, and Hong Kong. But in order to promote the brand further and attract the attention of international investors, the management of MadamWine was keen to strengthen its online presence.
With this in mind, the EBRD connected the company with a major IT firm to assist in:
Developing a concept paper based on close consultations with the management of the company;
Creating a website design and its main structure;
Developing the website, publishing content, ensuring search engine optimisation and placing Google Analytics code;
Launching the website, linking to social media and training staff in communication activities.
Within a year of the project being completed, MadamWine was appearing on the shelves of more shops in the regions and in the capital's old city centre. And with its new glossy website, MadamWine was able to find new clients from abroad. Agreements to export 50,000 bottles are in place for both Azerbaijan and China, and negotiations are underway with a company operating in Kazakhstan and Hong Kong. The plans for the future are far-reaching. Manana Akhvlediani, the company CEO plans to build a wine factory and a hotel to foster wine tourism:
"During the whole project cycle, I was guided by the team of professionals who believed in me and in the success of my company. Professionalism and support from the Advice for Small Businesses team helped me to grow my company and their attention did not end when the project concluded. I participate in most of the women-oriented seminars and trainings to achieve more and run a successful enterprise."
The EBRD's Advice for Small Businesses activities in Georgia are supported by the European Union (grant funding) under its EU4Business Initiative, the Early Transition Countries Fund, Sweden and the EBRD Shareholder Special Fund.
The First Saperavi World Prize: RESULTS