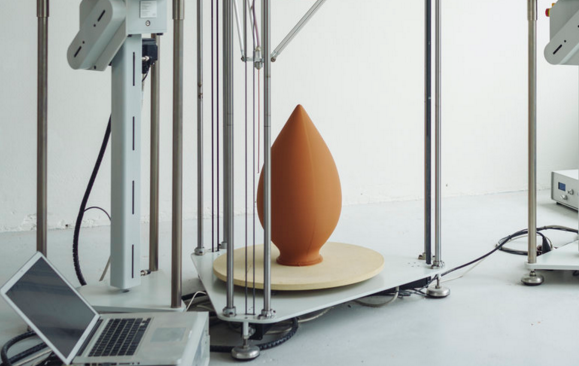 08.07.2018 (Hvino News). QvevriXYZ is a company, which announced a 3D printer technology to revolutionize the ancient Georgian method of production of the
qvevri.
This uniquely Georgian amphora-like vessel used in winemaking is traditionally produced of clay according to tradition which has not changed during several thousand years. Modern technology, however, has reached this millenia-old craftsmanship.
QvevriXYZ says that "with elements of traditional
qvevri
making process and modern technologies, we improved its structure and quality, yet kept its unique characteristics".
Traditionally, it takes months to make a
qvevri.
For a 3D printer, it takes several hours, plus normal pottery burning/drying process.
Theere are four "founding fathers" behind QvevriXYZ: David Mizandari, Nika Gujejiani, Giorgi Mamasakhlisi, who are from Georgia, and a Dutch Olivier van Herpt.
Hvino News
contacted Nika Gujejiani, who kindly answered our questions.
Hvino News:
What substance do you use for production?
Nika Gujejiani: It is absolutely natural and normal clay, cleaned and not contaminating any dangerous materials. But our
qvevries
will be more durable than those produced in the traditional way.
Hvino News:
Is it a Georgian-Dutch company?
Nika Gujejiani: No, the company is Georgian, we just have Dutch partner who specializes in 3D printers
Hvino News: W
hen do you plan to shift from prototype to normal production?
Nika Gujejiani: Right now we are looking for investments to scale up the production.
Hvino News:
Any idea of pricing? If prices are not known, just tell are they competitive compared to hand-made?
Nika Gujejiani: We are still calculating and working on it. I can tell you now that it will be more expensive, as we are making much better quality product and compared to existing market where 5 out of 10
qvevries
crack, we are guaranteeing 10 out of 10 best quality products. Our clay is standardized high-quality clay, laboratory-tested.
"Our aim is to improve the overall quality of the product by combining traditional wine making methods with up to date methods of vessel production", - noted the organizers of QvevriXYZ. The company says that production is still in prototype stage. However, the first series of vessels are now produced, with support from Georgia's Innovation and Technology Agency (GITA). Company accepts pre-orders of
qvevri
in size range from 50 to 500 liters.
Official site is Qvevri.xyz.
© Hvino News
The First Saperavi World Prize: RESULTS