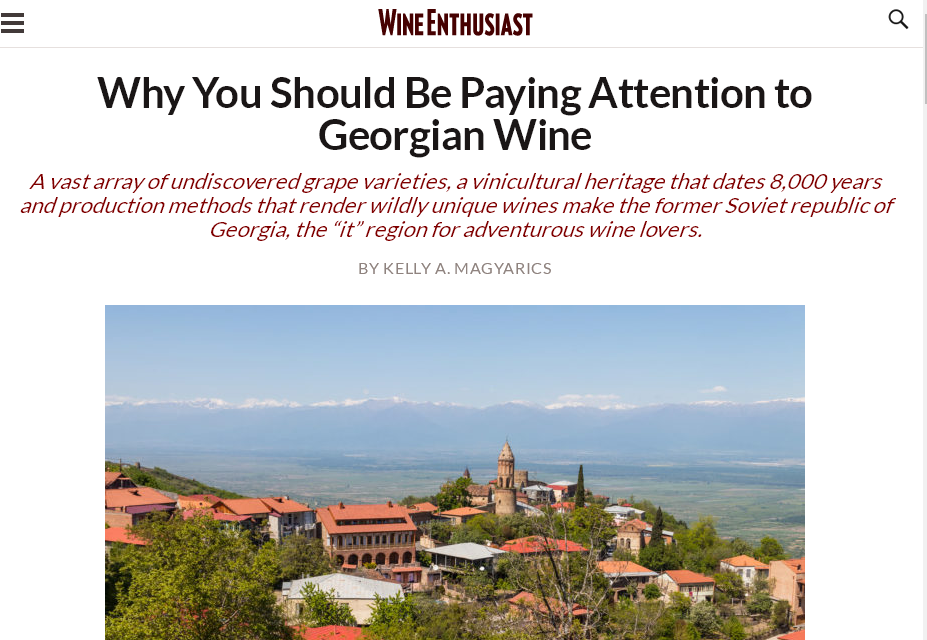 03.07.2018 (Hvino News). "Why You Should Be Paying Attention to Georgian Wine" is the title of yesterday's article in the leading American magazine
Wine Enthusiast.
This is how the author Kelly Magyarics starts her explanation: "About the size of West Virginia, Georgia is home to more than 500 grape varieties". "In 2017, Georgian wine imports to the United States grew 54% from the year before, translating to 458,000 bottles versus 294,000 in 2016. While that still puts them way behind powerhouse countries like Spain, Italy and France, the demand for and availability for Georgian wine is stronger than ever."
"Georgia made natural and organic wines long before they became buzzwords... Natural wine producers have also embraced
qvevri
, the egg-shaped clay vessels buried underground that UNESCO designated a signature part of Georgia's winemaking heritage. Their porous nature allows for natural temperature shifts and aeration, and their lack of corners promotes wine's contact kinetic movement allowing constant natural less stirring and more uniform oxygen contact.
Qvevri
are indispensable for amber wines."
Full text can be found
here
. Kelly Magyarics is a wine and spirits writer, and wine educator in Washington, D.C.
© Hvino News
The First Saperavi World Prize: RESULTS