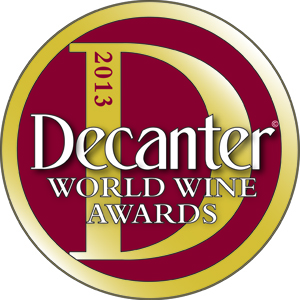 24.05.2013 (Hvino News). The 2013 Decanter World Wine Awards (DWWA) results were officially announced at the London International Wine Fair. Judges at this year's DWWA tasted a record-breaking 14,362 wines and awarded nearly 10,000 medals.
45 wines from Georgia have been awarded in this year's competition, which is a huge progress compared to just 28 awards received by Georgia in 2012. However in 2013 Georgian wines have received only Bronze and Commended Awards, while in 2012 two wines won Silver (for more 2012's details see
here
)
Full list of Georgian winners follows below:
Bronze:
Askaneli Brothers Tsolikauri 2012
Bagrationi Finest Brut 2010
Jsc Telavi Marani Saperavi NV
Kakhetian Chkhaveri 2012
Kakhetian Tsolikauri 2012
Kakhetian Velistsikhe Veranda Rkatsiteli 2011
Kakhetian Traditional Winemaking Moscato 2011
Kakhetian Traditional Winemaking Mukuzani 2011
Kakhetian Traditional Winemaking Saperavi 2012
Khareba Krakhuna 2012
Khareba Rkatsiteli 2012
Khareba Tsitska 2012
Marani Kindzmarauli 2011
Marani Saperavi 2009
Marani, Kondoli Vineyards Saperavi 2010
Satrapezo 10 Qvevri 2010
Schuchmann Mtsvane 2011
Shumi Winery Mukuzani 2011
Shumi Winery Shumi NV
Tbilvino Saperavi 2012
Telavi Wine Cellar Marani Kondoli Vineyards Rkatsiteli 2011
Telavi Wine Cellar Marani Rkatsiteli-Chardonnay 2012
Telavi Wine Cellar Marani, Saperavi 2012
Teliani Valley Tsinandali 2011
Wine Man Saperavi Cabernet 2010
Commended:
Askaneli Brothers Rosé 2012
Askaneli Brothers Saperavi 2011
Bagrationi 1882 Reserve Semi Dry 2010
Besini Mukuzani 2011
Besini Saperavi 2011
Kakhetian Chinuri 2012
Kakhetian Tsitska 2012
Khareba Mtsvane 2012
Khareba Saperavi Classical 2011
Khareba Saperavi Fruity 2011
Marani, Kondoli Vineyards Saperavi-Merlot 2010
Mossano Cabernet-Saperavi 2011
Qimerioni Marula 2011
Schuchmann Wines Cuvée M2 2009
Schuchmann Wines Vinoterra Saperavi 2009
Tbilvino 2011
Tbilvino Rkatsiteli 2012
Teliani Valley Samshvenisi Kvevris 2011
Teliani Valley Tsolikouri 2011
Teliani Valley Tvishi 2011
The Decanter World Wine Awards launched in 2004 with just over 4,000 wines, and is now celebrating its tenth anniversary as the world's leading wine competition. This year, 219 wine experts from 27 countries, including 75 Masters of Wine and 13 Master Sommeliers, gathered in London in April to taste 14,362 wine entries from around the world.
© Hvino News