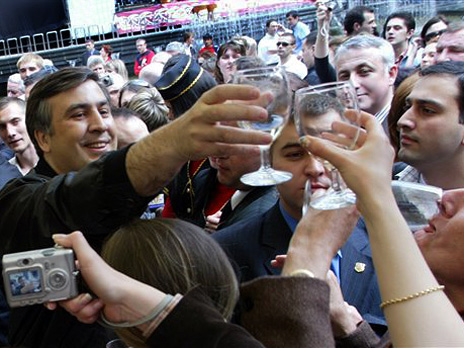 Photo AP
09.05.2012 (Hvino News). President of Georgia proposes to create a vineyard in close proximity to Tbilisi International Airport. According to president Mikheil Saakashvili "Georgians often say that Georgia is the birthplace of wine, but not all visitors coming into the country can see that".
"I ask the municipality to allocate a big land plot next to the airport, where we create a large vineyard, so that the first thing a guest sees when he arrives is a vineyard. We will give all the guests a small bottle of wine, so they take it back home as a souvenir. We must teach children how to make wine in Georgia. There should not be left a single piece of uncultivated land, where a vineyard could be made. I am really fascinated by wine-making. This is part of our national ideology "- the president said in Tbilisi.
In 2011 president Mikheil Saakashvili bought a vineyard in Kakheti region, Eastern Georgia. The vineyard ​(half hectare area) costed about 20,000 USD. Construction of a private house next to vineyard costed about 28,000 USD. The president often uses his vineyard house to host foreign visitors.
© Hvino News