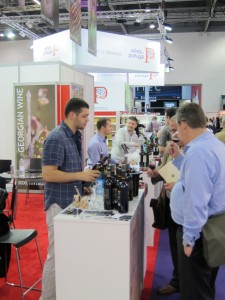 by Remy Charest
One of the distinctive aspects of the London International Wine Fair, among major wine events in the world, is that it takes place in a country that is a great importer of wines, rather than a major producer like France or Italy, where Vinexpo and Vinitaly take place. For producers from all over the world, it is an opportunity to enter an open market, one where 1.77 billion bottles are imported every year (and only 4 million bottles produced).
That certainly explains why you'll find big national stands from lesser-known wine-producing countries like Russia, Georgia, Romania, Turkey, Lebanon, Uruguay, Slovenia, Croatia and more, alongside the big players like France, Italy, Spain, Australia and the United States. Getting the opportunity to taste wines from those various countries is certainly an opportunity to discover a lot of new things like indigenous varieties you've probably never heard of before or unexpected wine styles (like solid bubblies from Georgian and Russian vineyards near the Black Sea).
Georgia
Between the hypertraditional producers of amphora wines that were displayed by large delegations at the RAW Fair and Real Wine Fair and the more modern producers at LIWF, there is a whole universe of wine to discover in Georgia. Whites from rkatstiteli, mainly made in every style from crisp and fresh to
aromatic and round to the whole different ballgame of qvevri/amphora wines. Saperavi reds were often impressive, balanced, with a good spiciness and freshness. Some, like those by Kakhuri, showed a good capacity for aging—a 2005 was extremely pleasant and well-integrated by the few years in bottle, all that at very reasonable prices. There was also a very solid producer of bubbly, Bagrationi, whose simple and pleasant charmat method wines are in direct competition with prosecco, as the producer recognized, and whose traditional method bruts were very fine, with a very interesting rosé from tavkveri grapes and a Reserve Brut made from chinuri, tsitska and mtsvane grapes that spent three years in bottle and showed a great balance betweend citrusy freshness and pastry sweetness. More, please!
Source