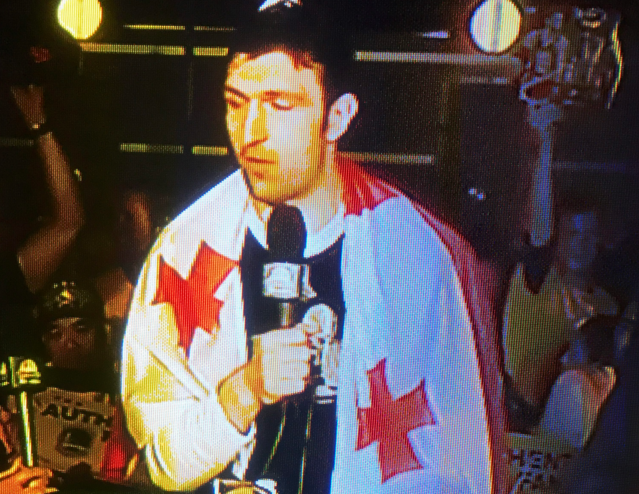 by Pamela Busch
18.06.2017. I think everyone in the Bay Area would agree that Zaza Pachulia* is the Republic of Georgia's greatest export – ever. This nearly seven-foot tall center from Tbilisi, the capital, played a huge role – literally – in the "Warriors" championship victory, and the 98 game path to getting there. [*Zaza Pachulia is Georgian professional basketball player for the "Golden State Warriors" of National Basketball Association -
HN
]
On the same day the Dubs beat the Cavs and won the NBA Title, the Georgian Wine Association and National Wine Agency of Georgia held a tasting at the San Francisco Wine School with a few importers. I'd say this was fate although my lucky shirt might have had something to do with it.
At any rate, I was very happy to not know a lot of the people who attended. This tells me that Georgian wines are catching on. "Knowledge that Georgia is the original wine region has increased significantly," says Chris Terrell, an early champion and a top importer of Georgian wines. "The buyers and influencers are now familiar with the region and the key producers, regions and grape varietals."
Ever since tasting my first Kisi, Mtsvane and Saperavi with Chris 2008, I've been hooked. Over the years I've seen loads of people become mystified with them as well; traditional Georgian wines are like nothing else you'll taste.
Beyond the strangeness of the varietals, they are often fermented and aged in large egg-shaped amphora known as
qvevri
(sometimes written as
kvevri
). These earthen clay vessels were first used 8,000 years ago and are making a bit of a resurgence with producers from Italy to California preferring them to tanks or barrels.
Wines that are aged in qvevri benefit from natural cooling (the vessels are usually buried underground) and while they are not completely neutral do not overpower the fermenting juice in the way that new oak can and at the same time are not as impermeable as stainless steel. Qvevri wines are often fermented with skins, stems and pits for weeks if not months, which add color and texture.
Most wine made in Georgia today is what people refer to as the "modern" style, meaning they are vinified in tank or oak. Many producers make both. While a lot of the Georgian wines you will find in the better wine shops, bars and restaurants are naturally made (no synthetics, native yeast), this is the minority of Georgia's production yet that is slowly changing. As Alice Feiring, who has written extensively about Georgia notes, "When I first visited Georgia there were about six natural winemakers who bottled. In May there was a tasting in Tbilisi of about 106. The quantity is tiny but the interest is huge. That wasn't the case for their local wine in 2011."
Seven thousand miles from Georgia, I've noticed a change as well. While there are nowhere near 106 natural wine producers from Georgia available in California, there certainly are more and hopefully, this trend will continue. Here were some of the highlights from the tasting:
White
Pheasant's Tears 2015 Tsolikouri ($15)
I feel as if everyone has heard about Pheasant's Tears but then I have to do a reality check and recognize that I inhabit a small, nerdy world. Within this sphere though, Pheasant's Tears has become quite famous. It would be easy to attribute this to its size, which, though not industrial is still larger than a boutique mom and pop operation. Owned by an American, John Wurdeman, and an 8th generation Georgian winemaker, Gela Patelishvili, they are made with artisanal care and it shows.
The Tsolikouri comes from Imereti in western Georgia. It was fermented and aged without its skins in qvevri for six months. With a slightly yeasty, salty nut and orange/kumquat character, it is – at $15 – a cheap thrill.
Pheasant's Tears 2015 Tsitska ($18)
Pheasant's Tears sources its Tsitska from Imereti as well. It too is fermented without its skins in qvevri for six months but could not be more different from the Tsolikouri. Aromatic but not too blousy with cayenne pepper, rose petals and invigorating acidity, it was the white wine that most stood out for me during this tasting. At $18 it's a steal.
Giorgi Revazashvili 2015 Chinuri ($21)
Giorgi Revazashvili is a rising star in Georgia's natural wine world. This wine is 85% Chinuri and 15% Goruli Mtsvane, both which are old, indigenous Georgian grapes. It was fermented without its skins in qvevri and aged in glass demijohns. Vivacious with fresh lemons and a hint of salinity, this is a quintessential raw bar or sushi wine. A day drinker for sure.
Gotsa Family Wines 2014 Tsitska ($28)
Beka Gotsadze grandfather founded Gotsa it in the 19th Century and he has shepherded it into the modern age with terrific traditionally made wines. It has been organic since 2007 and will be Demeter certified in 2018. Tsitska is a thick-skinned ancient white grape. This wine did not have any skin contact but still has a little girth – not much – think Marilyn Monroe in Some Like It Hot. Fermented and aged in amphora, it has a clean minerality with saline, Meyer lemon and a touch of honey in the nose.
Orange (skin-fermented white wines)
Doqi 2014 Rkatsiteli qvevri ($21)
Doqi is the newest label from Burkhard Schuchmann, a German businessman, who also owns Vinoterra (traditional wines) and Schuchmann (modern). The property is located in Kakheti, in Eastern Georgia. Fermented on its skins and stems for several months in qvevri, it is tannic and pungent with green olives, citrus and honey. Even as far as Georgian wine is concerned, I haven't tasted anything like this is a long time.
Our Wine Akhoebi 2015 Rkatsiteli ($32)
Every time I see this label it makes me think of Our Gang, aka The Little Rascals. I know, I'm dating myself. Soliko Tsaishvili is one of the purist winemakers in Georgia. He does everything by hand and doesn't add SO2. Demeter certified, his wines have immense clarity and at the same time, flavor. I wouldn't say they are always perfect, but the flaws are so minimal that they add character instead of detracting from the wines. He fermented his 2015 Rkatsiteli in qvevri on its skins and stems for six months. Vivacious with minerals and traces of citrus and tea, it has some grip and even a little spritz so expect a lot textually.
Red
Orgo 2014 Saperavi ($28)
Orgo is a partnership between Gogi Dakishivili, who has made wine for several well-known Georgian wineries, and his son, Temur, who focuses on small production qvevri wines. Sourced from 50 plus-year-old vines in Kakheti, this is a fruity Saperavi that is chock full of black currants and rough and ready tannin.
Gotsa Family Wines 2015 Tavkeri ($28)
This wine is composed entirely of Tavkeri, one of Georgia's highest yielding red wine grapes. There was no skin contact so it looks and drinks a lot like a dark rosé. Made from free-run juice, it has a cherry, hibiscus tea-like flavor and is immensely refreshing. It reminds me of herbal iced tea (the fancy $10 kind you'll find at $12 cappuccino places) for grown-ups. A go-to for hot summer days.
Amiran Vepkhvadze 2015 Otskhanuri Sapere ($30)
Otskhanuri Sapere is a very old and rare grape that is only found in Imereti in western Georgia. Amiran Vepkhvadz sold most of his grapes to a larger winery, but now he keeps the little he has (which is actually more than anyone else) for his own production. It was fermented on its skins in qvevri for nine months. Intense but playful with spice and floral scented fruit in the nose, fresh raspberries on the palate and a long, lush finish, this may have been my favorite wine of the afternoon.
To add this Search Box to your website, click here. Many designs are available.