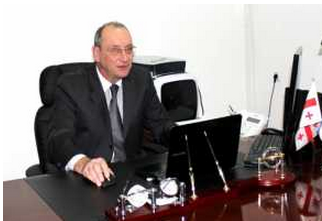 25.09.2014. From January 1, 2015 control will be tightened in restaurants over wine. What does the tightening of controls mean and how will the National Food Agency conduct monitoring - Zurab Chekurashvili, head of the National Food Agency, answers
Commersant's
questions.
- On what principle do you choose products to check?
The point is that by order of the Minister, we strengthen the quality control plan each year and it concerns all kinds of food.
This year we have a control plan, according to which, we take samples to test.
- If you plan to tighten control and in what direction? It was reported that inspection of falsified wine would begin in the restaurants.
From next year, we'll also tighten control over
chacha
.
This year more than a hundred samples will be taken across the country throughout the year, and then will be transferred to the laboratory.
A fine amounts to GEL 500 at this stage, but it will not be increased, because a fine is not the goal. This amount is too serious for some people, for others is symbolic, it depends on the venture. Every entrepreneur should try to avoid fines.
- What products except alcoholic beverages will be checked?
We check all kinds of products - of both animal and plant origin, including alcohol and drinking water.
- Apart from restaurants, if there are other objects where alcoholic beverages are planned to be checked?
We are talking about unbottled wines, therefore, their quality is controlled not only in restaurants, but in the stores where unbottled wine is sold. Most frequently falsified wine is sold just here.
- If a fine was imposed on any restaurant or store?
No, we are in the process and if there is such a thing, we will announce this information, at this time no one was fined.
Source
To add this Search Box to your website, click here. Many designs are available.