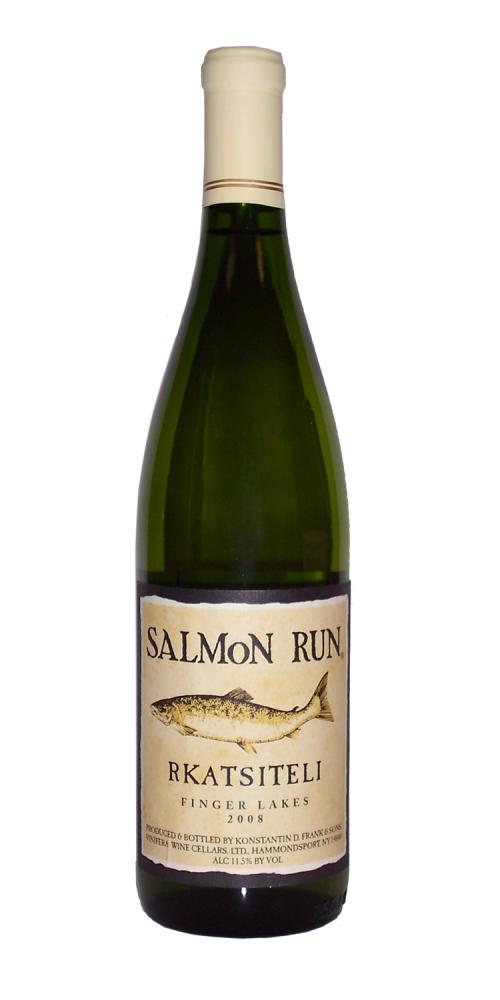 by Rezo Kvatchrelishvili
27.03.2014. Promotion of Georgian grape varieties in the US is associated with the name of Konstantin Frank of German origin, who obtained his Ph.D. in viticulture and wine-making from Odessa Polytechnic University, later worked in Georgia (most likely in
Samtrest
and its vineyards) and left for the United States in the beginning of the 50-s.
After arriving in the US, Dr. Frank worked at the agricultural experiment nursery of Cornell University, NY, and then consulted for one of the wineries in the area. Since 1962 he founded his own wine company, where he started planting of the European vitis vinifera grape varieties, including Rkatsiteli and Saperavi.
Throughout his career, Dr. Frank tried to prove that the high quality grapes could be grown on the East Coast of America, even under the strict climate conditions of the Finger Lakes AVA of New York. His grandson – Frederic Frank – current owner of the wine company notes that his grandfather was convinced of the potential to grow Saperavi and Rkatsiteli. At the moment Vinifera Wine Cellars owns up to 4 hectares of Rkatsiteli and 0.5 hectares of Saperavi vineyards.
It seems like Rkatsiteli and Saperavi adapted well on the east coast of the US, especially using Dr. Frank's method, grafting the European Vitis Vinifersa scion into the AmericanVitis Lambrusca rootstock. He's also an inventor of covering engrafted vines with ground in winter as frost protection.
These two Georgian vine varieties are the most widespread on the East Coast of the US, and several wine companies even produce wine. These companies are Westport Rivers Vineyard & Winery in Massachusetts, McGregor Vineyard and Standing Stone Vineyard in New York, Tomasello Winery of New Jersey, and Horton vineyards in Virginia.
Neil Glasser, Marketing Director of Horton says visitors of the winery gladly try Rkatsiteli wine. Those who try it, are willing to come back and buy more. Horton has up to 2.5 hectares covered with Rkatsiteli grapes. Westport Rivers has 1.5 hectares of Rkatsiteli. Its representative, Craig Caesar also notes that Rkatsiteli and Saperavi are well adapted to the East Coast of the US and that thin bunches are less susceptible towards plasmopora viticola and uncinula necator diseases. Rkatsiteli in this area is mainly produced in stainless steel vessels, without any influence of the oak, resulting into dry and soft wines, costing around $20 in wine shops: Dr. Frank $18, Westport Rivers $19, and Norton $20. Westport Rivers also produces sparkling wine, which is a blend of Rkatsiteli and Riesling. The $55 "Black Russian Red" wine, produced by McGregor is also interesting, as it is a blend of Saperavi and Moldovan Sereksia Tcheurnaia (black). Some experts believe that it's not real Georgian Saperavi, but Saperavi-Severnia, which is a mix of Severni and Saperavi, engrafted in Potapenko Winery and Viticulture Research Institute of Novocherkassk, later brought to the US by Dr. Frank and spread around from his nursery to these wine companies.
Marty Masinsky, owner of Standing Stone Vineyard – another produced in Finger Lake area – says that he wanted to cultivate Saperavi only for blending it with Pinot Noir, as the latter produced only light wine, which is less attractive for local consumers. Turned out the experiment did not work, since even the small volume of Saperavi created various problems for Pinot. In 2005 they decided to give another chance to Saperavi, but now bottling it without any blending, which has brought great results. Masinsky is happy with Pinot and Merlot produced in his vineyards, but he believes Saperavi is the variety that shows potential of this region. He recognizes that their experience is limited and a lot has to be done, but Saperavi has all qualities needed for such good results in a cold climate: it's frost-resistant and sugar level is still at least 23-24 Brix, it's highly productive – producing up to 15 tons per hectare, and the brunch is thin, which protects it from diseases.
Marty Masinsky also believes that buyers are still not well aware of this grape, some hear its name and origin for the first time, but he is sure that if consumers try it at least once, they will happily pay $20-25. He also notes that in order for any grape varieties to become popular, at least 20 producers should be producing wine of these grapes. He believes Saperavi has potential to be successful and can become a leading grape variety of Finger Lakes.
Source
© Georgian Wine Club/Vinoge.com