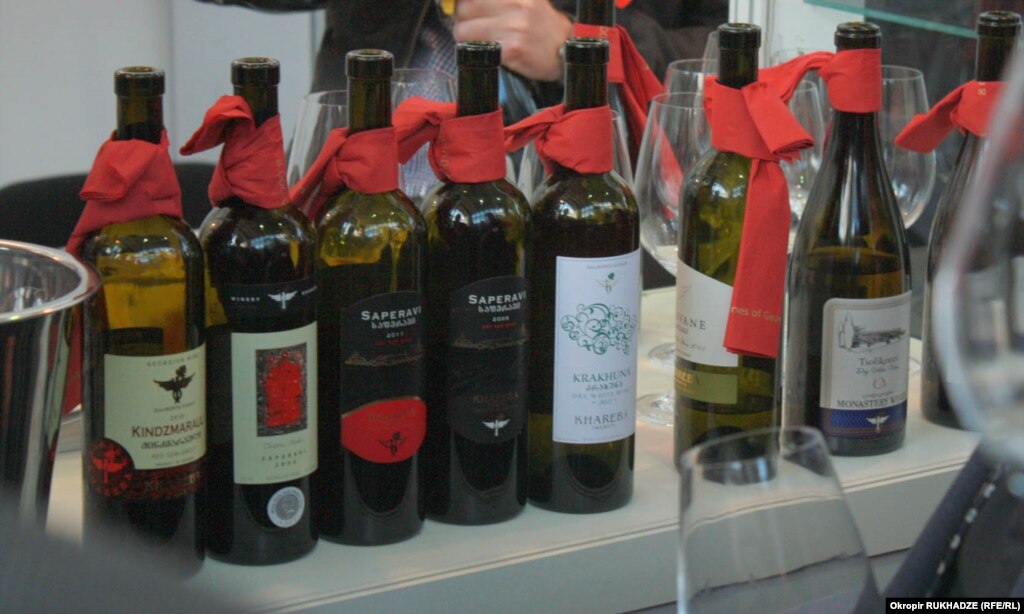 by Nino Patsuria
21.03.2014. Georgian wine export tripled in the months January and February of this year compared to the same period in 2013. According to Ministry of Agriculture of Georgia, wine export experienced 296% growth in the reported period as 50 Georgian wine-producing companies exported 9 990 397 bottles of wine to 18 countries. Russia, Ukraine, Kazakhstan, Poland and Latvia make up the top five export markets of Georgian wine in the reported period. However the growth is largely credited to the Russian market that leads the top export markets list by 68%.
Sector pundits are on alert because the Russian market is estimated to be a risky market for Georgia due to political tensions between the two countries which already taught the Georgian wine industry a lesson when Georgian agriculture export to Russia was banned in 2006. As a consequence, Georgian wine export which was tied to the Russian market plummeted dramatically by almost 90%. 57 million bottles of wine were exported in the pre-embargo period from Georgia and 52 million out of the figure went to Russia. After a diversification of export markets, the Georgian wine export hardly recovered to 22 million bottles per year by 2012.
But no sooner the Russian market reopened in the summer of 2013, the export figure rocketed to 22 million bottles in only six months by the end of 2013 and Russia made up for 43% of the total export. Although the Georgian government as well as economic analysts recommended wine companies not to depend on the Russian market as dramatically as before, this year the export is expected to double and more than half very likely will go to Russia again. As a matter of fact, 6 865 545 bottles were exported to Russia within January-February of this year which jacked up the wine export by almost 300%. .Not a single bottle was exported to Russia in the same period during 2013 when the Russian market was still closed for Georgian agriculture products.
Some wine companies think it is unreasonable to say no to such an increasing demand and hedge the risks at Russian market via advanced payments. Others try to keep the Russian share limited. 25% is a golden average which cannot have a fatal impact on wine companies if things go amiss at the Russian market, Giorgi Margvelashvili, Director General of Tbilvino, presumes. He does not expect a closure of the Russian market again, but does not rule out the creation of artificial barriers to Georgian wine import to Russia through red tape for example. The recent tension between Ukraine and Russia justified the fears that the Russian market cannot be trusted. The more so why Georgia also is looking toward the EU Association Agreement this year. Indirect results of the Crimea stand-off are already palpable in Georgia. Ongoing devaluation of the Russian Ruble as well as the Ukrainian national currency already have had their repercussion on Georgia as distributor companies ask to cut down the prices, Margvelashvili said in an interview with
Georgian Journal
.
"You know the prices of grapes in 2013 were pretty high due to excessive expectations from farmers and vine-growers toward the reopened Russian market and we cannot drop the prices on wine now," Margvelashvili said. He believes not only Russia but Ukraine and other CIS countries except the Baltic republics all bear these risks and the Georgian wine export would be better kept at the moderate 25% within this space.
According to the statistical data, Ukraine takes 27% of the total wine export which is less dramatic but wine companies do not report on shrinking sales as of yet. On the contrary, wine export in Ukraine has increased by 70% in January-February this year.
Zura Ramazashvili, Head of Telavi Wine Cellar (TWC), also thinks to hedge risks at Russian market by sending only the surplus there. "Our position is not to diminish export on other markets for the sake of the Russian market, we only send to Russia what remains from other markets," Ramazashvili said. Out of 4.5 million bottles of TWC export only 1.5 million went to Russia last year and this dynamic is to be kept.
Source