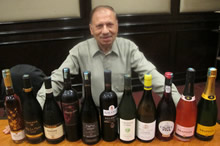 04.10.2012. Delhi Wine Club celebrated its 10th Anniversary last month as it organised the 200th event at the Hotel Hyatt Regency for a record 260 people. An association with Ethos and Rolex of Switzerland made it possible for the Club to raise the variety and standard of wines for the sit-down dinner, write Stephanie Jan and Joachim Lefaure, the French sommeliers couple who are also members of the Club. The long-time planned event was awaited by the wine lovers all excited to taste the carefully chosen eleven wine selections by our President, Subhash Arora.
Georgia and Saperavi wines
Thanks to our President Subhash for inviting samples of lesser known and under-estimated Georgian wine culture. Georgia is one of the oldest wine producing countries; its roots have been tracked back to 6000 BC (5400 years before France!). The two Georgian wines selected were both from the Kakheti region (east of the country) and made of the indigenous Saperavi grape. Tbilvino (importer Tabuni Wines) is the result of a privatization of a former state winery. The company does not own vineyards but sources grapes from more than 300 growers in the nearby areas. It is the largest wine exporter and has an impressive collection of international wine competition trophies. Tbilvino 2010 presented intense aromas of fresh cherries, tar, coffee and chocolate. The small astringent tannins contrasted with a refreshing acidity. Askaneli Brothers shows how a company is excelling in wine making and offering a wide range of intriguing indigenous grapes. The incredible Mukuzani 2005 has evolved aromas of cedar, pepper, cherries, brown tobacco with rounded and velvety tannins.
Source
(excerpts)