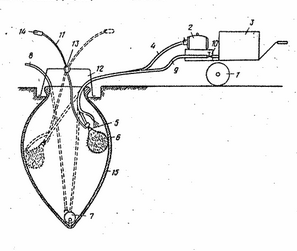 01.04.2014. (Hvino News) Last year the Georgian method of wine making in
qvevri
(giant clay jars) was given the status of the Intangible Cultural Heritage by UNESCO. It has become one of the factors of extraordinary growth of popularity of the method of
qvevri
wine production worldwide. Chinese manufacturers took advantage of increased demand for
qvevri
jars - now almost all the major online sellers offer
qvevri
made ​​according to Georgian designs.
American and British
qvevri
enthusiasts examined the China-manufactured jars whether they could affect the quality of wine produced. It turned out that in order to reduce mailing costs, Chinese manufacturers were minimizing the weight of their products. Experts have found that in some cases the jars consisted not of natural clay but of composite materials. "It's almost plastic. We do not know how it will behave in a year's time", said Bysshe Shelley of British Union of Organic Winemaking to a BBC correspondent.
Note that buried
qvevris
are extremely hard to get back for a replacement, since after immersing in an earthen pit they are strengthened by coating with a thick layer of cement (10-25 cm) or lime mixed with fragments of sandstone and gravel. Meanwhile, the safety of wine from "plastic qvevri" produced in the south of Scotland has already attracted attention of UK food safety regulator.
© Hvino News
|
■
DRINK GEORGIAN!
To add this Search Box to your website, click here. Many designs are available.