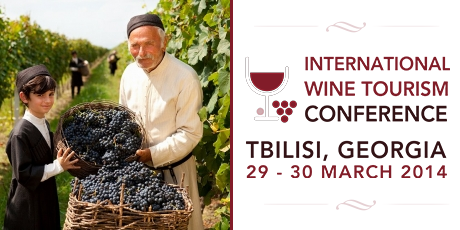 04.04.2014. To raise awareness of Georgia as a wine tourism destination, Tbilisi hosted the 6th annual International Wine Tourism Conference on 29-30 March. This was the first IWTC ever held in Georgia and is expected to make Georgian wine and wine tourism popular. "As a matter of fact, people in the world are still unaware that Georgia is the cradle of wine. Wine is not just a drink to us and the grape simply a fruit – both are a part of the culture and tradition of our nation," Giorgi Sigua, Head of National Tourism Administration of Georgia, admitted. He believes wine tourism is one of the key priorities of Georgian tourism and expects a big demand in this direction this year.

The two-day conference summoned more than 150 representatives of 13 countries. Masters of wine, wine sector pundits, wine-writers, and tour operators from France, Canada, Russia, Italy, Ukraine, Sweden, Singapore, Poland, Germany, the UK, the US, the Czech Republic and Slovakia got together at IWTC venue in Tbilisi to discuss the major issues and trends of wine tourism. To disclose the wine tourism potential of Georgia, wine tours were held in the Georgian wine growing regions.

According to Anthony Swift, founder of IWTC, the interest of international bloggers, wine writers and photographers in the IWTC is increasing and hosting this kind of events is a good opportunity to raise awareness about the country as a wine and culinary, cultural tourism destination that gives an impetus to the entire tourism development at large.
"We have here an important group of media which are a great influence on social media as well as 30 hand-picked tour operators who are specializing in wine economy and tourism, but are not offering Georgia as these destinations yet, so they are coming here to buy Georgia, to understand Georgia firsthand," Swift said in an interview with Georgian Journal. He believes Georgian wine tourism can compete with the well-developed new wine world thanks to its antiquity and traditions and become a driving force to Georgian tourism.

"Contrary to what you can read in the press, that the US and the new world are advanced in terms of wine tourism and development, I think it is the old world that is advanced, because they have history and tradition. They may not have the marketing knowledge, but they have a better product, there is so much history and passion which you do not find as much in the new world," Swift said.

Tim Clarke, Company Chairman of Arblaster & Clarke Wine Tours, believes however that Georgia needs more creativeness to make itself attractive and "marketable" as a wine tourist destination. He admires the Georgian landscapes and finds the country has much potential as a wine tourism destination, but remarks that some villages need to be smarter. "I mentioned in my report that a lot of the wine villages look unloved, if you go to a wine village in Germany and Austria they are beautiful, every house is beautiful, flowers everywhere, everything is in bloom. Georgia has breathtaking fantastic sceneries, old buildings are really spectacular and wineries are making efforts, but in a lot of the villages something has to happen," said Mr. Clarke.

He believes this is not a matter of money but just a little bit of creativity is needed. "You need no money to put a flower in a pot, even a dilapidated cottage with flowers look beautiful," Clarke said. He exemplifies the "flowery" practice of France and UK where they make villages look smarter. These countries announced nationwide competitions for more blooming villages which, in fact, brought remarkable results.