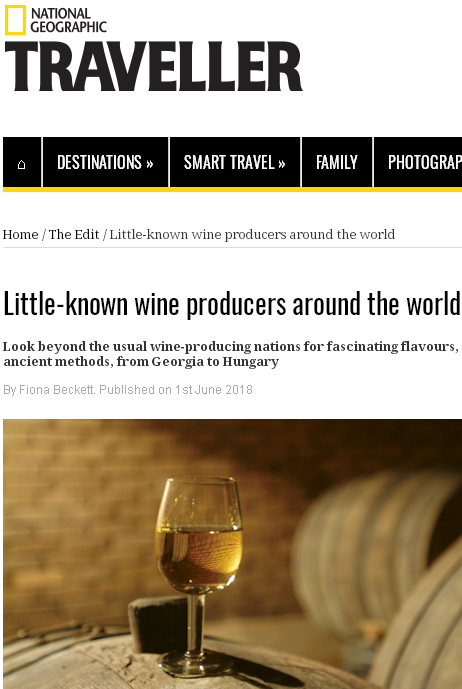 02.06.2018. (Hvino News). "Sipping a deep, orange-coloured Georgian wine is an entirely different experience to drinking a glass of sauvignon blanc — and not just if you happen to be sitting overlooking the mountain-backed vines of the country's Kakheti wine region, - reads the new article in
National Geographic Traveler.
This is the starting sentence of article "Little-known wine producers around the world" by Fiona Beckekt starts published yesterday."
"Just as our taste in food is shifting, so our interest in wine is starting to diversify. French, Italian and Spanish wines may still be the best-sellers, but straying off the beaten track can reveal new flavours and unusual grape varieties". Starting with Georgian wines, the author explores also wines from Hungary, Slovenia, and other countries. In particular, Fiona Beckett mentions Orgo Saperavi 2015, which is the number one wine in her list of "Five of the best": "Traditionally made and inky in colour, this is a lively, juicy red with beguiling bitter cherry flavours. Ideal with char-grilled lamb and a pomegranate salad. £19"
"Georgia has attracted a lot of media interest over the past couple of years — both as a travel destination and for the output of its vineyards and kitchens (it was recently featured both by Channel 5's The Wine Show and The Food Programme, on BBC Radio 4). It claims to be the oldest wine-producing country in the world, with a tradition dating back over 8,000 years, and still retains classic methods of ageing wine in qvevri (clay amphorae) buried in the ground", - reads the fresh
National Geographic Traveler
article.
National Geographic Traveler
is a magazine that launched in 1984 by the National Geographic Society in the United States. It is one of the most popular travel media in the world and is published in 20 countries in ten languages.
In 2015
The National Geographic
published list of Best Tours in Europe in its
Traveler Magazine's 2015 Tours of a Lifetime.
Along with Italy, France, Croatia, Switzerland, Scotland, and others, the list also includes Georgia - particularly Alaverdi, Kakheti region. Then Georgian economy minister, Giorgi Kvirikashvili commented: "I want to share some very good news with you... The decision to include Georgia into the top tourism destinations has already been made by the
National Geographic Traveler
and in my opinion this will help Georgia to develop its tourism industry and to improve the country's image among world travellers."
© Hvino News
The First Saperavi World Prize: RESULTS