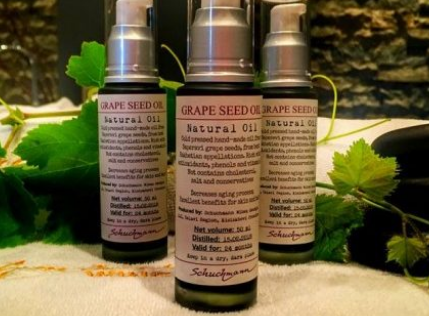 26.06.2018 (Hvino News) Schuchmann Wines Georgia launched a grapes-based "wine cosmetics" line, including grape seed oil and scrub made from Saperavi grapes seed.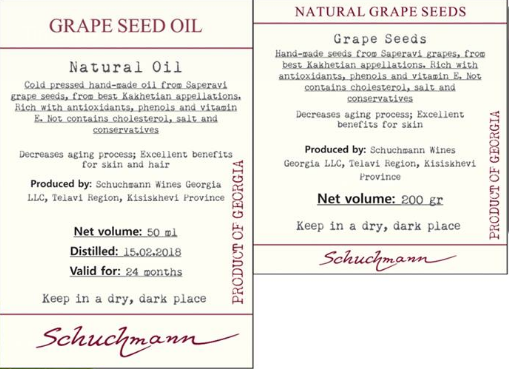 "The oil has been obtained by the method of the first cold pressing of Saperavi grape seeds, growing at Schuchmann vineyards, is very rich in antioxidants, which reduce the ageing process. The grape seeds contain bioflavonoids that regulate the secretion of fatty glands, promote hair growth, collagen synthesis and impede ageing processes. It is perfect for skin care" - reads the company's release.
Products are available only at the company's hotel Schuchmann Wines Chateau & SPA in the village Kisiskhevi (Kakheti region). "We consider selling it somewhere else. The company has been offering wine spa procedures for guests for two years, and the idea of ​​creating these products was born here. We wanted to offer guests a novelty. The product contains useful substances that are a unique way for skin and body skin care, " - said company's director Nutsa Abramishvili.
The grape seed oil comes in a 50 ml bottle and costs 45 GEL, while the price of 200 g of scrub is 25 GEL. The company organized a production line for cosmetic products at the wine factory, and the staff was trained in Germany.
© Hvino News
The First Saperavi World Prize: RESULTS