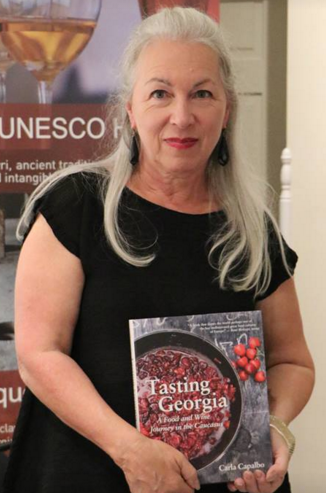 25.10.2017 (Hvino News). Embassy of Georgia in Washington hosted the presentation of Carla Capalbo's book "Taste Georgia: A Food and Wine Journey in the Caucasus". Ambassador David Bakradze greeted the guests, followed by Ms. Capalbo describing her journey through heart and soul of Georgia. Guests of the event enjoyed the Georgian wine and appetizers specially selected and prepared from Carla's book by our Embassy's chef Zuka Shonia.
According to
Booklist Online
review, "In addition to the brilliant photographs and 65-plus recipes, Capalbo introduces the warm hospitality and amazing wine regions of a country that spans the area between the mountains and the Black Sea. Georgian food and traditions charm."
"And while the style of cooking and local dishes are distinct as you move about, and interesting details about the country's lengthy, complicated history keep the pages turning, it's the photos and descriptions of individual winemaking operations still utilizing thousand-year-old methods that capture the imagination. An agricultural country of stunning beauty far removed from the bustle of tourism-weary western Europe, Capalbo has done the great service of bringing the country's treasures within reach of any visitor through the use of maps, listings of hundreds of places of interest, and suggested itineraries," – writes
Forword Review
.
Carla Capalbo is an award winning journalist whose articles and photos appear regularly in the best newspapers and magazines on both sides of the Atlantic. She is well-known for her travel books about food and wine in rural Italy, where she lived for over 20 years. For the last 3 years, she has travelled extensively in Georgia to write the 'Tasting Georgia', presented to US reader.
© Hvino News
To add this Search Box to your website, click here. Many designs are available.