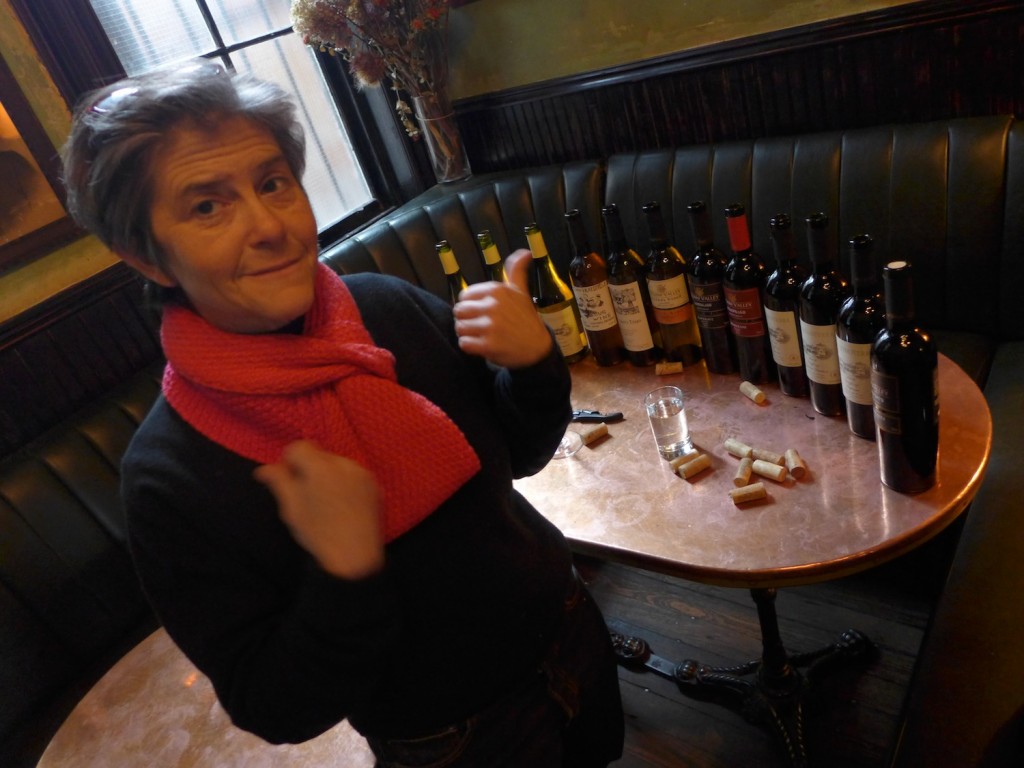 Photo: stuartpigott.de
10.12.2013. Seldom have I experienced a tasting like that of Georgian wines which Lisa Granik MW presented this afternoon at Hotel Delmano in Williamsburg / Brooklyn. Even in New York Wine City (NYWC) where the culture of excellence and plain old hot competition drives standards up, sometimes with bizarre results, I never before experienced a tasting where the winemaking background and the cultural background to the wines were presented in such fullness and with such a clear feeling for what is decisive or essential. What I mean is that Lisa didn't just dump an avalanche of detail on us and leave us to try and find the connections. The fact that she lived in Georgia for a year at the beginning of the 1990s obviously helped, but I promise you I've been to tastings of French wines by people who'd lived in France for a year that were rubbish compared to this tasting! Although I'd been to Georgia in the Caucasus in June 2008 just weeks before that ugly little war with Russia erupted and been given a crash course in Georgian wine and culture, but this afternoon I still learnt a lot of vital stuff.
For most of the other participants it was like being thrown in the deep end of an olympic diving pool, because all the comparisons with Western Europe and most of the paradigms and metaphors we derive from the wine cultures of those nations don't help you make sense of Georgian wines, rather they make it way more difficult to piece the information your palate is telling your brain into something resembling a coherent picture reflecting the reality on the ground. For me it was not only the chance to refresh my memory, but also to catch up on what several major producers have done during the last few years. The most important of those was Vinoterra in Kakheti (in the east of the country where the majority of the vineyards are).
During my June 2008 tour of Georgia the most exciting wines were those being made by Dr. Giorgi Dakishvili at Vinoterra in
Qvevri
, that is fermenting them in Georgian "amphora", were the most striking and exciting of all. That was also the case at today's tasting, but the best wines were even better than those I experienced there five years ago. The most remarkable of the whites for me, and for many of the other young somms present, were the white 2011 Rkatiseli (the nation's most important white grape) with its dense apricot aroma, rich body and full, but harmonious, tannins. The two 2009 Saperavi (the nation's most important red grape) reds, regular and Selection, were both delicious with the aromas Lisa regards as classic fro this grape, "blackberry, blueberry, pomegranate, licorice, smoke and graphite." The Selection is still very young, but even it has well-integrated tannins, and for wines that taste this big and imposing 13% is really moderate. There's also nothing sweet about them, but this is logical for these wines all spent their first months of life on the skins in
Qvevri
and anything that could be extracted from the skins was extracted from them during that time. The remarkable thing given this hardcore method is the wines harmony and feeling of proportion.
Thank you again Lisa, not just for the wines and all the information, but also creating an atmosphere where everybody felt free to say whatever they thought and there was an open, friendly, but entirely professional discussion of all that was said. That is the Riesling Spirit, even if there wasn't one drop of Riesling in this great tasting!
Source
|
■
DRINK GEORGIAN!