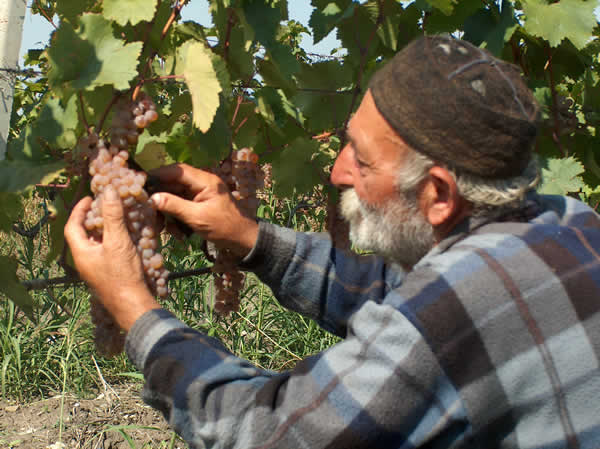 16.08.2013 (Hvino News). The
Rtveli
(vintage) will begin in the villages of Dedoplistskaro region this year.
Minister of agriculture Shalva Pipia and chairman of the National Wine Agency Levan Davitashvili familiarized journalists with the preparatory work and the ministerial programs within the framework of "Rtveli 2013".
As the Minister said at a press conference at the Ministry of Agriculture, 150 000 tons of grapes would be harvested this year.
Shalva Pipia notes that up to 80 companies will take the grape from farmers, most of which are technically equipped.
As for the price, the minister explained that the state will not interfere and the market will regulate the price, but if the entrepreneur purchases 1 kilogram of grapes for 1 GEL or more, then the state will provide wine making companies with the appropriate amount through a direct aid.
According to minister of agriculture, the fifth component will be added to preferential agro-credit project, in the frames of which preferential loans will be issued to wine producing companies. A 15 - month loan will be issued at 12 - 15%, 9% of which will be covered by the state. Subsidy budget will be 25 million GEL.
Apart from that, the chairman of the National Wine Agency Levan Davitashvili states that the ministry of agriculture launched preparatory work a few months ago in order "Vintage 2013" to be carried out successfully.
"Since 2013 the state will take care of maximum protection of private sector interests and aid to the peasants in order to conserve parity. The subsidy program will be implemented for companies without any vouchers, " – Davitashvili says.
Coordination Headquarters has been formed to carry out "Vintage 2013" smoothly that will be led by Levan Davitashvli and will be composed by officials from ministries of agriculture, interior and finance.
According to Levan Davitashvili, harvest will begin in late August in Dedoplistskaro region, and from September 10 the villages of Signaghi and Gurjaani municipalities will join "Rtveli 2013".
© Hvino News