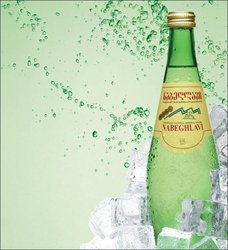 14.08.2013 (Hvino News). Georgian mineral water brand Nabeghlavi has settled the issue of visas required for the export of their products. At the beginning of last month when Borjomi and Sairme had already started sales on the Russian market, Nabeglavi failed to obtain Russian visas.
The company's management says that at the moment Nabeghlavi already has the necessary permissions to export its products to the Russian market and registration process should be completed in the coming weeks. According to management, the active bilateral negotiations are being held, samples have been approved, although the company finds it difficult to name a specific date at this stage.
The company also does not specify how many bottles will be sent to the Russian market.
Bottling of Nabeghlavi mineral water was initiated in 1958, following the establishment of a health resort in ecologically pure environment of village Nabeghlavi, which in turn was determined by revealing the water's unique curative properties. By that time water production output was small and the distribution area was rather limited. Georgian-Swiss joint stock company Healthy Water produces mineral water Nabeghlavi and spring water Bakhmaro. The company was founded in 1997 and by now is a leader of the local mineral water market.
© Hvino News