07.08.2013.
Favourite unpronounceable grape
Favourite Monastery
Ikalta – felt like a set for a Jane Austen movie (for some reason) with qvevris
Favourite Wine
Ramaz Nikoladze's Tsitska – aka the tea-seeker, earth to glass, pure class, a vivid wine with electrifying energy.
Iago award for hospitality
Iago Bitarishvili – generous dispenser of new-minted wine, beautiful food, good humour and chacha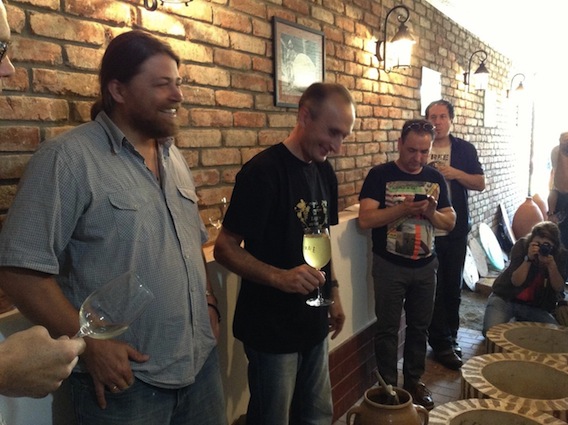 Brilliant behind-the-scenes organisation
Ia Tabagari – the trip ran on well-oiled ball bearings
Indefatigable good humour, profound mine of information
The one and only John Wurdeman
Best Natural Wine Bar in Sighnaghi (pop 2,900)
Pheasant's Tears. Actually, a superb wine bar with delicious food by any standards
Alien versus Predator scenario (AKA Cha Cha versus Wine)
Draining the horn versus chugging the cha cha.
Best Bread
Nazuki
(the sweet bread) or
Khachapuri
(the love boat). The love boat wins by a short egg.
Favourite Fruit
Wild strawberries, sour green and yellow cherries, mulberries, toms of various hue – all darn fine
Best Condiment
The ubiquitous
Tkemali
– a sour green cherry-plum chutney with dill that one slathers over chicken or pork dishes with alacrity. Special mention for the equally ubiquitous walnut sauce.
Best Singers
All polyphonically choral-tastic!
Most Surreal Meal
Freak-out-food-fest at Zghapari Riverside Restaurant. Duck all the way from the very local swimming pool, literally dressed-up kid with black olives for eyes, stuffed with chicken which in turn was stuffed with quail, and a whole giant carp that looked as if it was wearing lipstick.
Mention in despatches for dinner at Chateau Mere set a world record for the number of plates used for a meal in a quirkily furnished dining room with plinky-plonk piano churning out dirges whilst the pianist sluiced regularly from a pint glass of wine.
Best Fresco
Al Fresco lunch at Iago's
Alaverdi Monastery Award for skillful handling of corkscrew
Father Gerasim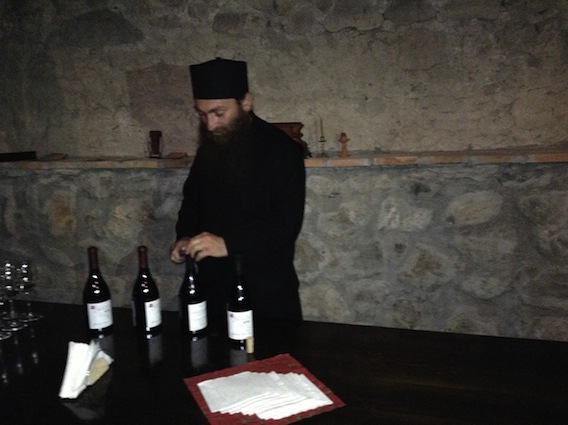 Most Interesting Sales Pitch at Georgian Wine Expo
The Qvevri Cleaning Machine
Source
(abridged)