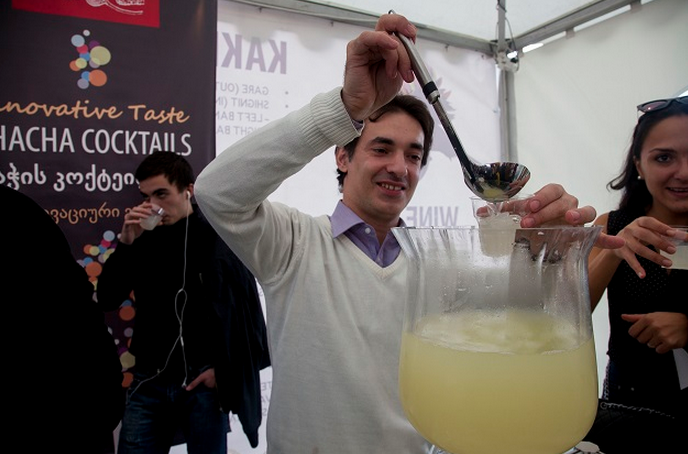 Photo N.Alavidze agenda.ge
by Tamar Khurtsia
05.11.2014. The wine tents in Rike Park encouraged wine lovers who visited the country's most colourful and spectacular two-day festival – Tbilisoba, the celebration of the diversity and history of the capital city Tbilisi – to sip the Georgian wine offerings produced from all winemaking regions of the country.
Sampling, sniffing and savouring Georgian wines in Tbilisi is not rare occasion but when revellers can try samples of the country's top wineries, taste some of the hundreds of wines on offer, and get the chance to take some home to enjoy at a discounted price, then it's well worth it to enjoy a fun day at Wine City.
Some of the labels on show were Mukuzani, Shumi, Kindzmarauli, Iberiuli, Kakhuri and Qvevri Wine. The ancient history of Georgian winemaking, including the Qvevri wine-making method, is the most cherished cultural treasure of Georgia and has recently joined the UNESCO heritage list. Brandy, as well as
Chacha
, a Georgian traditional spirit drink produced from the remains of the squeezed grapes, were also served at Wine City.