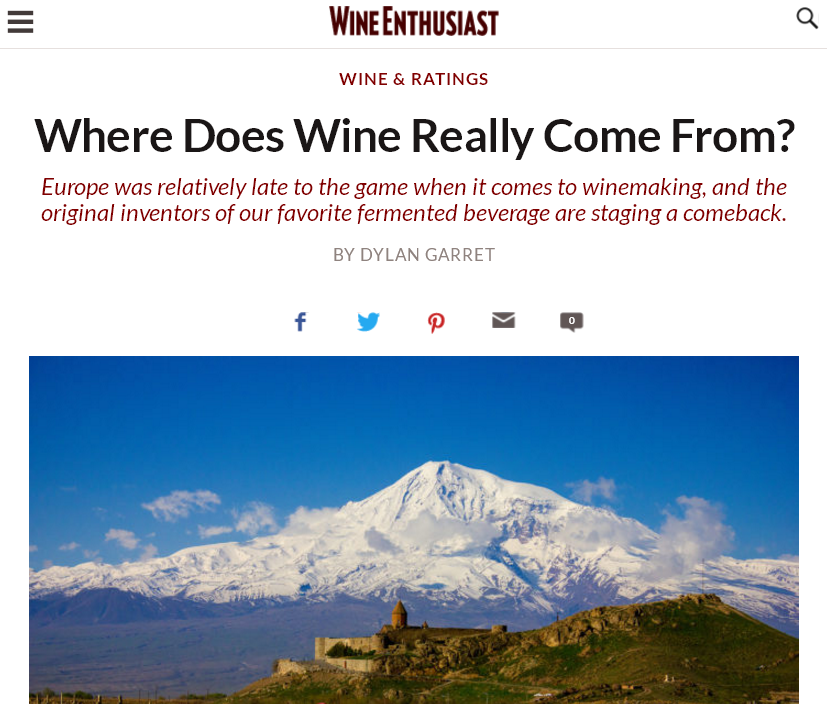 11.08.2017 (Hvino News). Leading American magazine
Wine Enthusiast
in a recent article is asking the question: Where Does Wine Really Come From? The author Dylan Garrett says that "Europe was relatively late to the game when it comes to winemaking, and the original inventors of our favorite fermented beverage are staging a comeback".
At a recent event hosted by Smithsonian Associates in Washington winemakers and wine historians examined who could in fact claim to be the original creators of wine. "While it's hard to pinpoint where the first fermented grape beverage was made, researchers traced the origins of domesticated grapes to an area around the headwaters of the Tigris River in Turkey", - reads the article.
Dylan Garrett further highlights ancient Georgian, Armenian, and Lebanese wine traditions:
"Saperavi, for example, is a source of national pride in Georgia. It's one of the few teinturier grapes—meaning its flesh and skin are both red—used in single-varietal production. It accounts for the vast majority of the nation's red-wine production, but is rarely seen outside the area other than isolated plantings around New York's Finger Lakes region.