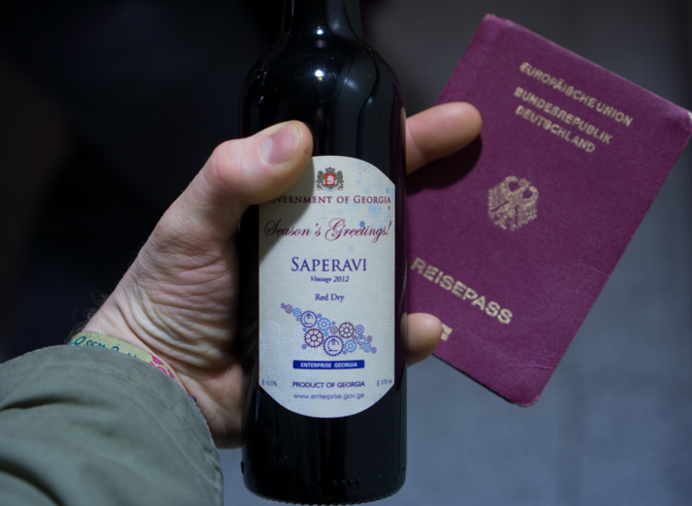 by Maia Edilashvili
13.02.2016. It might seem like the perfect welcoming gift after arriving on a flight and clearing passport control — a  free, 375-milliliter bottle of Georgian dry red wine presented by Georgian authorities to each visiting foreigner.
"No country has ever welcomed me this way!" exclaimed one Facebook user in a post published by the Georgian government. Yet in a country with a long history of backroom deals made between government authorities and business buddies, the promotional campaign raises questions about official propriety.
The gifts' aim is straightforward — to promote Georgia's ancient winemaking traditions, facilitate exports, "and show the country's image positively," explained Nino Skhirtladze, who handles international relations for the Ministry of Economy's Enterprise Development Agency, which oversees the project.
The wine-giving kicked off in 2012 at former President Mikheil Saakashvili's personal initiative (read more:
President of Georgia proposes Tbilisi airport to open its own vineyard
; 
Tbilisi's soft power of wine, smiles and tourism
;
President's initiative turned out unexpected for winemakers
), but was abandoned after the opposition Georgian Dream coalition came to power that same year.
Two years later, the Enterprise Development Agency revived the idea. To date, it has held four online tenders to select suppliers for peak tourist seasons. In a country with 200 registered wineries, including 40 exporters, you might expect competition to be stiff. It is not.