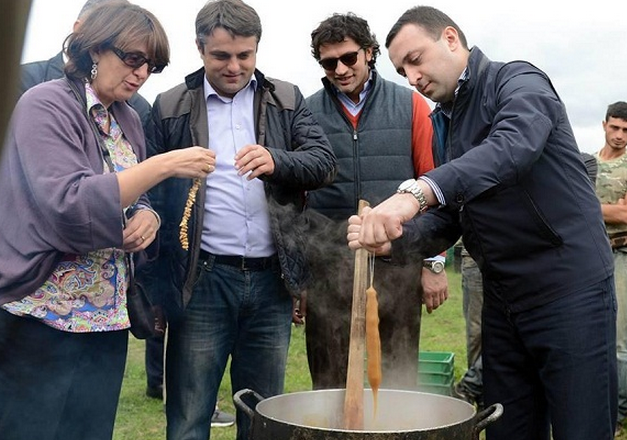 Prime Minister (right), Foreign Minister (left) and other 
Cabinet ministers making
churchkhela
, traditional 
Georgian snack made from nuts and grape juice.
Photo: Foreign Ministry's press office.
05.10.2014. Georgian farmers from the country's eastern area are enjoying the benefits of a bumper harvest after earning 115 million GEL by selling 155,000 tons of grapes this year.
The country's Prime Minister Irakli Garibashvili visited the Kakheti region - the leading production area of national wine - with cabinet members yesterday, where he participated in a traditional grape harvest.
The PM said the 2014 grape harvest was an "unprecedented event" as it was the first time "this huge amount" of money was earned by grape growers.
"The most important thing is that this is a great motivation that stimulates farmers. New vineyards have already been planted on the area of 4,000 hectares which indicates the motivation and wish of farmers to plant vineyards," Garibashvili said.
"There are families that received 10, 20, 50 and 100 thousand GEL. This is a great help for their village," he said.