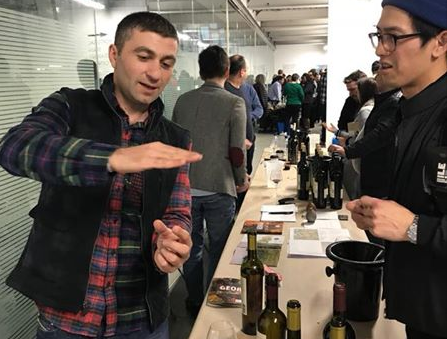 Photo credit:

@TasteOfGeorgiaUK
12.03.2018 (Hvino News). Georgian
qvevri
wine are be presented at the RAW WINE London, the artisan wine fair on March 11-12.
The organizer of the exhibition is Isabel Légeron, an internationally renown expert in natural winemaking.
8 Georgian winemakers take part in the exhibition:
Babaneuris Marani
Ethno - Wine Art LLC
Chateau Khashmi
Nikalas Marani
Gotsa Wines
Tibaani
Vellino
Natenadze's Wine Cellar
"While a seemingly new trend, orange wine is ancient – as the country of Georgia, with its claim to 8000 vintages, can attest. Believed to be the birthplace of wine, this tiny country in the foothills of the Caucasus, wedged between Russia, Azerbaijan, Turkey and Armenia, has been making wine in the same way for thousands of years using large clay pots buried deep underground. Wine is a huge part of daily life there and most people know someone who grows grapes and makes wine at home.
While there are of course regional differences in winemaking techniques used across the country, what they don't do is use a completely different vinification system for whites compared to reds. Instead their whites are made using the whole berry rather than just the run-off juice, since the grape skins, pips and stems impart all sorts of antioxidants, oils, tannins (and of course pigment), that help protect the young, fermenting juice from oxidation", - reads RAW WINE website. Georgia has been participating in RAW WINE since 2012.