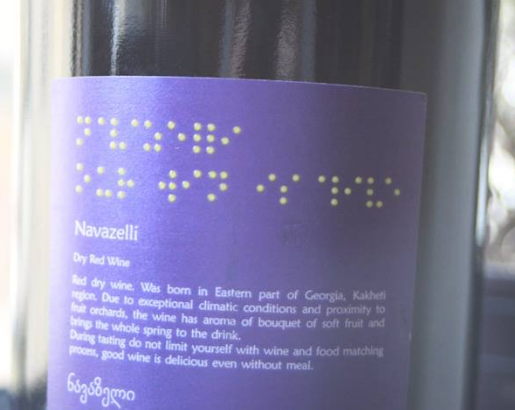 28.01.2018 (Hvino News). For the first time in history, Georgia will produce wine with Braille label on it. Village of Future [a non-governmental organization -
HN
] is the initiator of the project, while company Navazelli will produce the wine.
History of such labeled wine comes from French winemaker Michel Chapoutier, In 1993, when Chapoutier was only 29 and had been the main winemaker in the family business for only three years, he turned on the television to watch his friend and musician Gilbert Montagnin on the screen. Gilbert, who is blind, was talking about the experience of buying wine and was explaining on the program that he never felt comfortable going into a wine shop alone because he didn't know which wines he was picking up. Therefore, in order for him to take part in the simple pleasure of buying wine, he'd have to always be accompanied by a friend who was able to describe the wines he was choosing.
After Chapoutier adopted the Braille, so did many other winemakers, making it much easier for those without sight to choose and enjoy a bottle of wine.
To add this Search Box to your website, click here. Many designs are available.