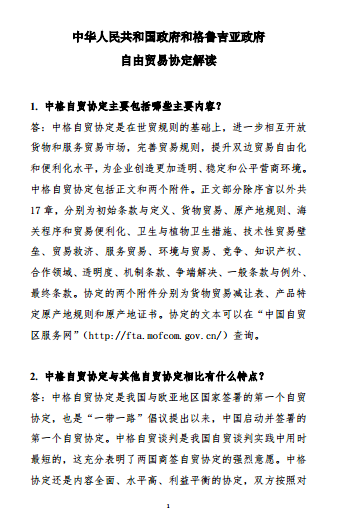 08.01.2018 (Hvino News). Free Trade Agreement (FTA) between Georgia and China has come into force on January 1, 2018, making Georgia the first country in the region to have such a deal with China.
According to official Chinese source, "After the agreement has gone into effect, in terms of the trade in goods, Georgia will impose zero tariffs on 96.5% of China's products immediately, covering 99.6% of the total imports from China; China will impose zero tariff on 93.9% of Georgia's products, covering 93.8% of China's total imports from Georgia, of which 90.9% (taking up 42.7% of imports) will have zero tariffs immediately and the remaining 3% (taking up 51.1% of imports) will gradually have zero tariff within 5 years. In terms of trade in services, both sides will further open their markets to each other on the basis of their WTO commitments. In addition, both sides have reached broad consensuses in many fields such as environment and trade, competition, intellectual property, investment and e-commerce. China-Georgia FTA will further improve the liberalization and facilitation of bilateral trade, and will build a more open, transparent and stable trading environment for enterprises, providing more quality and cheap products and services for people from both countries. By taking the opportunity of the effect taking of the agreement, China and Georgia will comprehensively improve both sides' practical cooperation level, thus firmly promoting the Belt and Road construction and achieve common prosperity."
Georgia and China began discussing the possibility of establishing a free trade regime back in September 2015, however, the Memorandum on finalising a Free Trade Agreement was signed in October 2016 and the agreement was finally signed in May 2017.
Last year, 7,585,407 bottles of Georgian wine were exported to China. This is a 43 percent increase compared to 2016. With these numbers, China takes third place as the largest importer of Georgian wine.
Summary/interpretation of China-Georgia FTA can be found
here
(in Chinese language).
To add this Search Box to your website, click here. Many designs are available.