06.11.2017 (Hvino News). Winemaker Gavin Robertson at Niagara College Teaching Winery in USA is using wine technology resembling that of Georgian
qvevri
to produce "Orange wine" of Sauvignon Blanc. The difference is that instead of millenia-old traditional use of clay, the modern vessels are made of steel.
Gavin Robertson says: "At NC Teaching Winery, we produce the majority of our wines using conventional, modern technology and scientific principles... Our buried "orange wine" project will compare the relative simplicity of grapes interacting with microbiology at an appropriate temperature to all of the high tech, sophisticated ways that we achieve consistent, quality products in the modern industry.
The purpose of the project is to explore the idea, with our students and visitors, of low intervention or "natural" winemaking in a way that hearkens back to ancient winemaking techniques. These techniques were prevalent in Neolithic times in the geographic origins of the wine grape, in the Transcaucasian area between the Black and Caspian seas, in what is now Georgia and Armenia"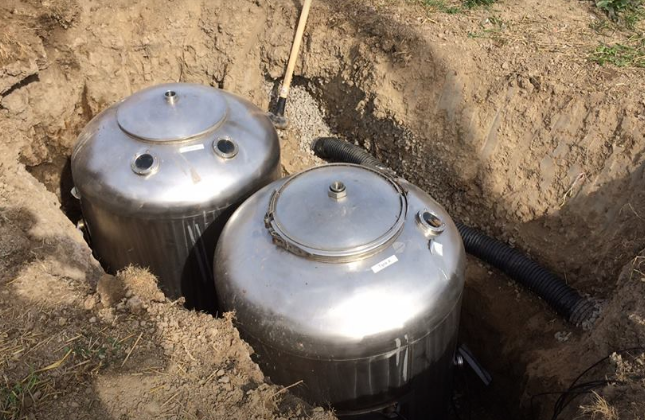 Chateau Niagara is using the Sauvignon Blanc grape "because of the high levels of aromatic compounds contained in the skins, which will be liberated during the skin fermentation process. We destemmed the fruit, filled tanks that were buried underground to a depth of 6ft, and let ambient yeast present on the fruit initiate fermentation spontaneously. The fruit has just started dropping sugar and I expect a long, slow alcoholic fermentation to occur over the course of winter, followed by malolactic fermentation".
© Hvino News
To add this Search Box to your website, click here. Many designs are available.