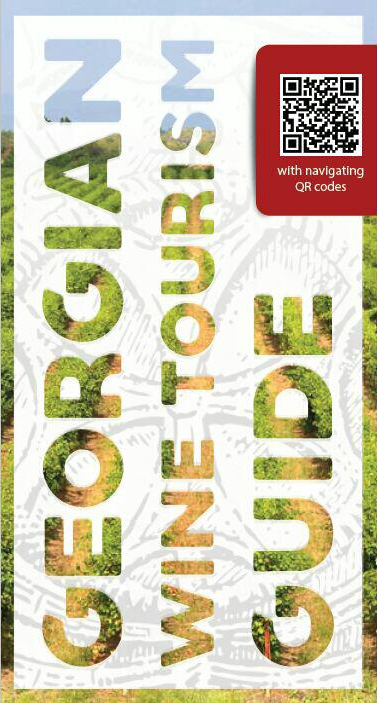 by Nino Gugunishvili
23.01.2017. The Georgian Wine Association presented a new wine tourism guide at their head office on Friday.
The new guide is the first book published in the English language in Georgia to feature over 120 wineries across all regions of the country.
It has a listing of 40 wine bars and shops, nearly 200 recommended restaurants, and 200 hotels. The book has QR codes which can be scanned through the Smart Phone App to easily find out more about the selected venue. After scanning the QR code, locations appear as pinned on Google Maps. For those who have never used a QR scanning code, the guide explains how it works and how to use it.
The book covers all regions in Georgia with precise and detailed information on what to see, where to stay, where to taste wine and where to dine out. In addition to the brief history of the country, the new guide provides useful information for tourists on how to enter Georgia, and brings useful tips to help visitors get around more easily, with a list of tourism information centers also included.
The reader can get acquainted with the 800 years of wine making tradition in Georgia, followed by a section titled "Chronicles of Georgian Wine" which begins in the 6th century BC and leads those interested up to the present, namely September 2016, when the first UNWTO Global Conference on Wine Tourism was held in the country.
The newly published guide also has a section on traditional Georgian wine making in
qvevri
(clay wine amphora), and introduces all the Georgian grape varieties. Regional cuisine, major historic sites, and Georgia's nature and wildlife reserves are also featured in the book.
The Georgian Wine Association was established in 2010 and, as Tata Jaiani, Communications and Business Development Manager, said at the presentation, since that time, its main focus has been on supporting the development and promotion of Georgian wine both on local and international markets, offering a strong network with the international wine community abroad.
"This book is unique in Georgia in that it has QR codes for all the destinations, locations and venues," Jaiani said. "We wanted to make a very detailed guide about Georgia and its wine regions and grape varieties. We also wanted to underline that when travelling to different regions of our country, it's important to not only taste local cuisine, but also to have a taste of the different wines. All the places listed in the book, from the small guest houses and wine bars to the restaurants, are checked and recommended by us. We have tried to focus on the information most convenient and useful for travelers".
As many of the tourists who come to Georgia often choose to travel independently, without the help of tourist agencies, and seek budget accommodation, the newly presented wine tourism guide could be their best companion along the way. It also claims to be an attempt to support the country's economy through featuring and promoting small wine sellers and guest-house services, thus assisting them to be discovered by tourists.
The Wine Tourism Guide will be available in all major bookshops throughout Georgia, as well as in wine shops, wine bars and museum gift shops. It will also be available in Daunt Books, London, UK, and in the Dussmann Bookshop in Germany.
The Georgian Wine Association plans to publish the Georgian Wine Tourism Guide in the Russian language later this year.
Source
To add this Search Box to your website, click here. Many designs are available.