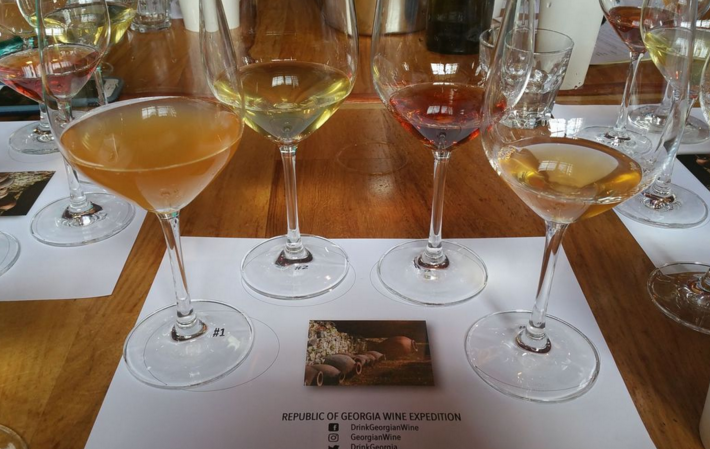 by Allison Levine
01.07.2016. I sat down for the
seminar
ready to learn about and taste wines from the Republic of Georgia. It is a region that I knew very little about and was excited to begin the exploration into wine from what might be the oldest wine-making region on earth: Georgia has been making wine for 8,000 years.
But little is known about the wine here in the United States. Despite the 8,000 vintages they have been producing wine, the industry has been affected by the history of the country. Since the Middle Ages, Georgia has been invaded by other countries. Each time a new invasion came in, the vines were ripped out. But each time, the families would save some of the vines and plant them in their backyards, propagating them. When the Soviet Union took over, they restricted Georgia to grow only two grapes (
rkatsiteli
and
saperavi
) and made them sweet for the Russian market.
Again, it was lucky that individuals would hold onto the vines, producing hyper-artisanal wines in their homes and not for commercial use.
This history is a key part to understanding Georgian wine, Taylor Parsons, wine director of Republique in Los Angeles, explained at the seminar. Parsons recently returned from a first-time, 10-day visit to the county. Parsons also did not know what to expect on his visit as his knowledge of Georgian wine was elementary at best. But, while he says he is still a neophyte, he came home amazed and says that Georgian wine has a place in what we do.
In order to find this place for Georgian wines, it is important to start to understand the wines, for which there is little information available. It is also important to understand the wines in context to the legacy of the country. There is a skewed proportion of small producers to large producers.
There are no mid-sized wineries in Georgia. Most of the wineries are making 2,000-3,000 bottles per year. There are approximately eight producers who make 7 million bottles per year, about the same production amount as the 10th biggest winery in the United States.
I knew tasting the wines of Georgia would be different. But as they came around and poured the wines, a wine novice would question what was in front of them. Instead of the bright lemon or golden colors of white wines, the white wines ranged from yellow and golden to pale peach and orange. The red wines, however, are more the typical shades of purple, ruby and garnet that we are familiar with. The wines are made in large vessels called
qvevri
, which means "below." These are concrete tanks built underground. If you are a fan of "The Amazing Race," you will understand what I am talking about as this past season the teams were required as one of their challenges to clean out grapes skins from the
qvevri
at a winery in Georgia.
Georgia is a predominantly white wine culture, and the variance found in white wines is diverse. In many cases, the white wines are made like red wines and are macerated on their skins. This is what is unique to Georgian white wines. The grape juice can be macerated with stems or without them. It is up to the winemaker if and how much of the skins they use and for how long. But the with skin contact, there are notable tannins found in the white wines.
In addition, many of the white wines are not filtered or fined so they have a hazy look.
Here are some of the key grapes to look for:
— Rkatsiteli – This is the most widely planted white grape in Georgia, especially on the east side of the country.
— Mtsvane – The name means "green" and is one of the varieties that has been continuously cultivated for 24 centuries.
— Chinuri – A grape from Kartli in the center of Georgia.
— Kisi – This grape variety was almost extinct as of 2006, but today, while rare, is it more widely planted. It produces a round, fruity, friendly wine that can be likened to viognier in style.
— Tsolikouri—This high-acid grape is the most planted white wine grape in the west of Georgia.
— Aladasturi – This rare grape produces a red wine that is light in color, making the wine almost look like a rose.
— Otskhanuri Sapere – A rare variety that produces a very dark variety, perfumed, high in acid, age-worthy and sought after by Georgians "in the know."
— Saparevi – This high-tannin wine, which means "to dye," is the main red wine from Georgia. This is a grape on which not just the skins are red but the juice is tinted. If you were to translate "saparevi" to French it would be "teinturier".
A few wine favorites from the tasting:
—- Niki Antadze Rkatsiteli 2014 (fermented in qvevri, no skin contact) – This tangerine orange-colored wine is hazy and looked like iced tea. On the nose, it had aromas of lemon and orange peel and on the palate had notes of tangerine, orange skin, dried strawberry and tart pineapple. (imported by Terrell Wines).
— Niki Antadze Rkatsiteli 2014 (fermented in qvevri, 6 month skin contact) – In comparison to the first wine, this wine was a tawny color and had notes of peach pit, nectarine skin, tobacco, smoke and black tea. (imported by Terrell Wines)
— Orgo Kisi, Kakheti 2013 (fermented in qvevri, skin contact) – A hazy peach color, this wine had aromas of dried peach and dried flowers, and on the palate notes of black tea and pear. (imported by Georgian Wine House)
— Gotsa Family Wines Chinuri, Kartli 2013 (fermented in qvevri, skin contact) – This high-acid wine has herbal and black tea notes and has grippy tannins on the palate. (imported by Blue Danube)
— Gogita Makaridze Aladasturi, Terjola, Imereti 2014 (fermented in qvevri, no skin contact) – Cherry pink in color, this high-acid wine had notes of strawberry and red cherry as well as an herbal note. (imported by Terrell Wines)
— Lagvinari Gvino Saperavi, Kakheti 2011 (fermented in stainless steel) – This ruby red wine has aromas of berries, dry plum, cherry and pepper with a chocolate bitterness on the finish. (imported by Corus)
— Amiran Vepkhvadze Otskhanuri Sapere 2014 – This wine is an intense ruby color with dark berry and dried floral notes, has firm tannins and high acidity. (imported by Blue Danube)
There is so much for us to learn about Georgian wine. As Parsons explained, "the real challenge is how do you take an insulated culture and make it another sphere of the wine world. Georgian wine has its own place and we need to find it and include it in the wine universe."
Source
To add this Search Box to your website, click here. Many designs are available.