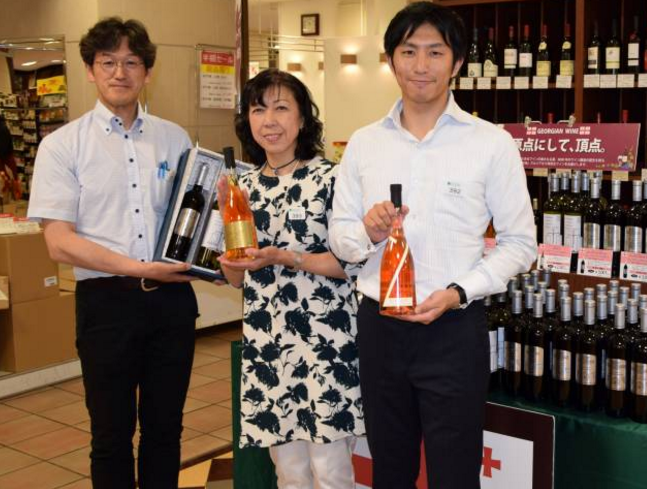 17.07.2016. Matsubaya, a retail and wholesale firm from the town of Namie near the crippled Fukushima No. 1 nuclear power plant, is trying to revitalize businesses that were based in the district, using Georgian wine.

The firm, which evacuated to Tamura in central Fukushima Prefecture, is cooperating with H&N Wine Japan, a Tokyo-based importer that has a vineyard in Georgia, to establish a distribution channel for Georgian wine in the region hit by the 2011 earthquake, tsunami and nuclear disaster.
Georgia, a country in the South Caucasus region of Eurasia, is widely believed to be where wine production originally began some 8,000 years ago. In the ancient Georgian traditional wine-making method, high-quality grapes with sugar content of 26 degrees Brix or more are fermented and stored in clay amphora-like vessels called
Qvevri
buried in the ground up to their necks. Georgian wine has been attracting the attention of wine lovers worldwide after the centuries-old technique was added to UNESCO's
Intangible Cultural Heritage list
in 2013.
Namie is within the radioactive hot zone and no one is allowed to reside anywhere in town, but the evacuation order is expected to be lifted next March. Matsubaya and H&N Wine Japan hope to provide restaurants and retailers who fled with Georgian wine to help revive their businesses.
H&N Wine Japan President Mariko Honma, 59, used to work for an international nonprofit organization but quit after the 2011 earthquake to get involved in activities to restore disaster-hit areas in the Tohoku region.
She came up with the idea of supporting the region as a winery owner and used her retirement payment to purchase some 30 hectares of vineyard in Georgia. A wine production factory is under construction, and an original brand wine is expected to be produced this fall.
The two firms held a Georgian wine tasting and sales event earlier this month at a department store in Koriyama, Fukushima. They offered some 200 bottles of eight types of Georgian wine, including one made of grapes from Honma's vineyard using the Qvevri method. The wine was priced at around ¥3,000 a bottle.
"We want to use the wine made in the birthplace of wine to help revitalize the region," said Yasushi Igarashi, 55, Matsubaya official in charge of out-of-store sales.
Honma and her 29-year-old son, Satoshi, said they hope people in the disaster-hit areas will enjoy the wine, which tastes sweet despite lacking added sugar.
Source
To add this Search Box to your website, click here. Many designs are available.