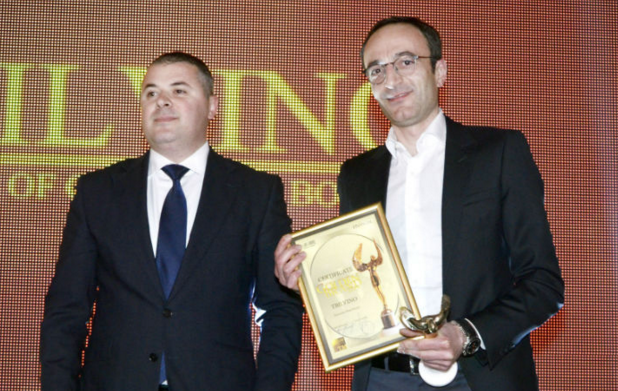 07.07.2016. Tbilvino, one of the leading producers of high quality Georgian wine, continues to invest in cultivating new vineyards and developing Georgia's traditional
qvevri
winemaking method. Furthermore, Tbilvino will introduce two new wines - Kisi Special Reserve and Qvevri Kisi. This year Tbilvino plans to enjoy 15 percent growth in sales and 10 percent growth on export markets.
"The Kisi Special Reserve will come from the 100 percent natural Kisi wine variety and will be introduced as a limited edition. As for the Qvevri Kisi, this will be a premium wine which will be made in
qvevri
, a large, ancient Georgian winemaking vessel," said Giorgi Margvelashvili, president of Tbilvino.
Meanwhile, Tbilvino will offer three varieties of
chacha
, a strong spirit similar to vodka or brandy which some people refer to as vine vodka, grape vodka, Georgian vodka or Georgian grappa.
"Producing
chacha
is a new and interesting direction for us which we started in 2015. This year we can already offer three varieties of
chacha
. These are: Chacha Rkatsiteli, Chacha Saperavi and Chacha Saperavi aged in oak. In the future we also plan to produce premium segment Chacha," Margvelashvili said.
Tbilvino offers 34 sorts of Georgian wine. The company produces wines with modern technologies as well as by using traditional winemaking methods.
Tbilvino wines are produced under several trademarks such as Tbilvino, Sakartvelos Velebi, Iveriuli, Adati and Didebuli.
Tbilvino is the proud winner of a number of bronze, silver and gold medals from international wine competitions. It recently won the local most influential business award Golden Brand for the great success the company achieved in 2015.
Q. Could you please summarize the year 2015 and the beginning of the year 2016?
A. The year 2015 was full of challenges for the whole of Georgian winemaking. The traditional export markets of Georgian wine - Russia, Ukraine, Kazakhstan, Belarus and Azerbaijan - are facing a currency crisis now. This caused decrease in export of about 41 percent and decrease in sales of about 26 percent compared to 2014.
However, positive things also happened such as entering the United States, Japan and Germany's markets and increasing sales in Georgia.
Meanwhile, last year we changed the organizational management structure and improved the logo.
During the last year we were also working on cultivating our own vineyards and today we have about 160 hectares of modern vineyards with a drip irrigation system in Georgia's winemaking region Kakheti.
Developing the Qvevri winemaking method was another goal for us. By the end of 2015 we had 53,000 litres of Qvevris while we aim to increase this volume to 120,000 litres in the nearest future.
I want to mention that last year the influential British newspaper The Independent named Tbilvino's Qvevri Rkatsiteli the best wine out of a selected 13 orange wines from around the world.
As for the year 2016, we see that demand for Georgian wine is increasing from the Asian countries, while the crisis on traditional export markets still continues.
Q. To which countries do you export Tbilvino's wine and do you plan to enter new markets this year?
A. Tbilvino's production is being sold in about 25 countries including Russia; Ukraine; Kazakhstan; Uzbekistan; Belarus; Azerbaijan; Lithuania; Latvia; Estonia; Poland; China; Canada; the United States; the Netherlands; Germany; Finland; Sweden; Cyprus; Japan; England; Australia; Korea, and others.
This year we plan to increase sales in new markets such as the United States and Japan.
It is a big achievement for us to win the tender in Norway and sell our Qvevri Saperavi wine there.
So, we can say that Tbilvino's export markets are quiet diversified.
Q. Diversifying the wine export markets is one of the goals of the Georgian Government. Recently, negotiations with China and the European Union have been in a very active phase. A number of wine houses have already opened in China while Europe has been hosting Georgian wine-tasting events. How do such activities help wine producer companies?
A. The Government's efforts to make Georgian wine popular in new markets are very important and help us to find new partners and enter new markets.
I think it is important for the Government to continue this active cooperation on the world wine markets and introduce the uniqueness of Georgian wine.
Q. Which international exhibitions has Tbilvino participated in recently and what has been the result?
A. In 2015 we participated in one of the world's leading trade fairs for the wine and spirit industry - the ProWein Dusseldorf exhibition in Germany. Over the three-day exhibition Tbilvino products were sampled at tasting sessions and discussed at seminars.
We also participated in the Hong Kong Suppliers and Hong Kong Manufacturers (HKTDC), VinExpo in Bordeaux, and Wine and Gourmet Japan in Tokyo.
Thanks to these exhibitions we established ties with new partners.
Source
To add this Search Box to your website, click here. Many designs are available.