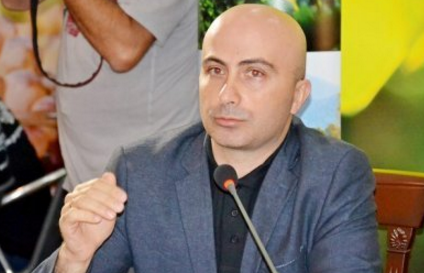 15.07.2016. An interview with Giorgi Samanishvili, director of Georgia's National Wine Agency:
Georgian Prime Minister announced that grape growing would be subsidized in the current year as well. What subsidies
will be allocated
and
what amount of
grapes
are
planned to
be
process
ed
?
The subsidy will depend
on grape variety
and will be 0.20-
0.45 GEL per kilogram. The general scheme is the same as in the past year. The money will be transferred to companies which will buy the grapes from the population at a higher price within 15 days.
The entire crop will be processed, we can say that the demand from winemakers has grown in comparison with the last year.
Prime Minister said about the need to stimulate local producers and expand export markets. What can you say in this
regard
?
The National Wine Agency for three years has been actively implementing measures to diversify export markets and quite successfully.
We are actively working to increase the recognition of Georgian wines on the markets where it is already available, as well as in the countries we plan to enter. For example, 5 years ago China was not in the list of countries importing Georgian wine, and now it occupies the 3-rd place.
Which countries
are you going to enter
?
In general, Georgian wine is sold in 40 countries, in different amount
s
. The main importing countries
are
Russia, Ukraine, China.
The
Asian direction is developing very successfully
as well
. Sales grew in the Baltic states, and the United States remain the strategic direction.
In your opinion, why this industry cannot survive without government support?
The policy of the state has not changed. The government wants to stop subsidizing viticulture, but this takes time. We are working actively to promote our wines in the international markets and stimulate the growth of quality of Georgian wines. Gradually subsidy amounts will be reduced, and in a
few years
the industry
will
become profitable without government intervention.
So, we can assume that the subsidies will continue in 2017?
The decision will be made by the government.
This year, the
price
of Georgian has decreased
in export markets
. What is the reason?
It should be noted that despite the de
cline in export prices of wine
, revenues
of
wine companies
rose
thanks to marketing operations. In the current year exports have grown by 45% compared to the same period of 2015. That is, prices have fallen, but overall profit
has
r
i
se
n
.
As for the reasons for the decline in prices, it is mainly due to a decrease in purchasing power in importing countries.
Source
To add this Search Box to your website, click here. Many designs are available.