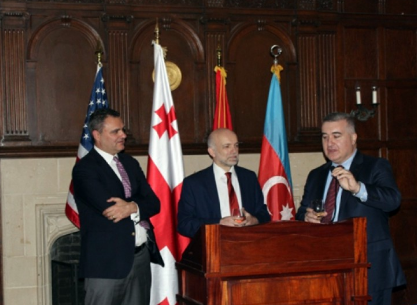 15.02.2016. On February 10, United States-Azerbaijan Chamber of Commerce (USACC) in cooperation with America-Georgia Business Council and American Turkish Council with support of Embassies of Azerbaijan, Georgia and Turkey hosted a wine tasting event for its members at renowned Georgetown University in Washington.
The event was attended by the member-companies of organizing associations, officials of U.S. government, diplomatic corps, media representatives as well as experts and distributors of wine products in Washington area.
In her welcoming speech, Executive Director of USACC Susan Sadigova greeted the guests and informed them about the purpose of the event. Ms. Sadigova underlined Azerbaijan as a country with rich and old history and culture of winemaking. She also highlighted the growing importance of increasing Azerbaijani exports and the role USACC plays in promoting and bringing Azerbaijani products into U.S. market.
Ambassador of Azerbaijan to the United States Elin Suleymanov stressed the importance of the event in the context of strong strategic partnership between Azerbaijan, Georgia and Turkey. The Ambassador emphasized that Azerbaijan is known for its abundant resources of oil and gas reserves. "However, one of the economic priorities of the country is to develop its non-oil sector by utilizing the revenues from the export of these resources. This event is significant in terms of stimulating and promotion of the export of non-oil products, in particular, Azerbaijani wines," said Ambassador Suleymanov.
Georgian Ambassador Archil Gegeshidze, Deputy Chief of Mission of the Embassy of Turkey Tugay Tuncer, President of America-Georgia Business Council Dr. Mamuka Tsereteli and President of American-Turkish Council Howard Beasey also spoke about the friendship and cooperation the three countries share and enjoy, and praised the event as a good opportunity to promote Azerbaijani, Georgian and Turkish wines to the U.S. customers.
Source
(edited)
To add this Search Box to your website, click here. Many designs are available.