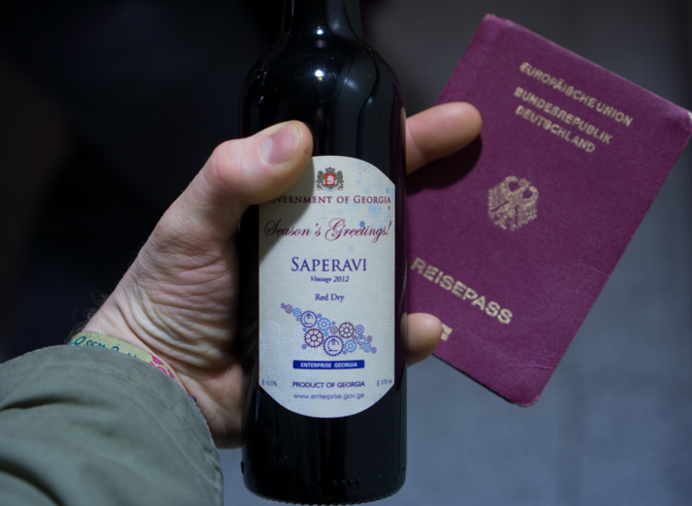 by Maia Edilashvili
13.02.2016. It might seem like the perfect welcoming gift after arriving on a flight and clearing passport control — a free, 375-milliliter bottle of Georgian dry red wine presented by Georgian authorities to each visiting foreigner.
"No country has ever welcomed me this way!" exclaimed one Facebook user in a post published by the Georgian government. Yet in a country with a long history of backroom deals made between government authorities and business buddies, the promotional campaign raises questions about official propriety.
The gifts' aim is straightforward — to promote Georgia's ancient winemaking traditions, facilitate exports, "and show the country's image positively," explained Nino Skhirtladze, who handles international relations for the Ministry of Economy's Enterprise Development Agency, which oversees the project.
The wine-giving kicked off in 2012 at former President Mikheil Saakashvili's personal initiative (read more:
President of Georgia proposes Tbilisi airport to open its own vineyard
;
Tbilisi's soft power of wine, smiles and tourism
;
President's initiative turned out unexpected for winemakers
), but was abandoned after the opposition Georgian Dream coalition came to power that same year.
Two years later, the Enterprise Development Agency revived the idea. To date, it has held four online tenders to select suppliers for peak tourist seasons. In a country with 200 registered wineries, including 40 exporters, you might expect competition to be stiff. It is not.
The winner of the last two tenders, the Kakhetian Traditional Winery (KTW), which received a total of 301,499 laris ($121,572) for supplying 111,000 mini-bottles of Saperavi, faced just one competitor. Winery Khareba won the first two contracts in 2014 for 377,192 laris ($152,093) without facing any competition at all.
Reasons for the lack of competition are not clear. According to a study by the management-consulting firm PMCG, competition under Georgia's electronic tender process tends to be low — fewer than two bids on average, compared with five to 11 in the European Union. The difference tends to be attributed to the size of market.
Georgia, however, is not lacking in vintners. Twenty companies control up to 80 percent of the market. Additionally, according to the chairperson of the state-run National Wine Agency of Georgia, Giorgi Samanishvili, "there are many smallholders selling wine to niche markets in France, the UK and the United States, [mainly] to high-end customers."
Samanishvili noted, though, that few Georgian winemakers produce wine in small bottles. Skhirtladze also cited "the relatively unusual size" of the requested bottles to explain the lack of competition in the airport-wine tender.
But aside from miniature bottles, KTW and Winery Khareba share one other trait — their owners are strong supporters of Georgia's ruling Georgian Dream coalition, or close friends of its founder, billionaire ex-Prime Minister Bidzina Ivanishvili, whom many see as power behind the Georgian government.
Before Winery Khareba won its first wine tender, two of its key shareholders, Aleksandre Kharebava and Vakhtang Lipartiani, each contributed 37,353 laris ($15,061) to the Georgian Dream for its 2014 local-elections campaign, according to the State Audit Office's Financial Monitoring Service of Political Parties.
KTW is not a Georgian Dream donor, but its director, Zurab Chkhaidze, has credited Ivanishvili with financing his company's greenhouse, saying in one 2015 interview that he "will never tire of saying a gigantic thank you" to Ivanishvili for fostering the revival of traditional Georgian grapes.
The ex-premier and his wife, Ekaterine Khvedelidze, both attended KTW's 2015 re-opening of a 19th century wine cellar (read more:
Historical wine cellar was opened by Prime Minister Garibashvili in Saguramo
). The Economy Ministry earlier had awarded the company a 20-year lease to the cellar and a 49-year lease to adjoining vineyards.
Until last December, the ministry was run by a former employee of Ivanishvili, current Prime Minister Giorgi Kvirikashvili.
The questions about fairness in the tender process extend beyond the wine giveaway. Government contracts given to donors or friends of a ruling party are not illegal, but concerns persist about direct or indirect links between the government and winners of state tenders.
Anti-corruption watchdog Transparency International Georgia reported that during the first five months of 2014, an election year, companies connected with Georgian Dream donors won roughly 20 times the amount of tenders (worth over 39.9 million laris, or $16 million) as companies linked to pro-Saakashvili donors (roughly 2 million laris, or $806,451).
This trend was reversed during the time Saakashvili and his allies held power, claimed TI Georgia analyst Levan Natroshvili. No record of a tender appears to exist for airport wine given to foreigners under Saakashvili.
The Enterprise Development Agency, meanwhile, maintains that its tender process has adhered to regulations, and it does not plan to publicize information more widely about the airport project.
It says that it "possesses no information" that Winery Khareba is a Georgian Dream donor. "The tender commission and the agency in general are not interested in [bidding company] owners' personal donations," emailed spokesperson Ketevan Chukhua.
Winery Khareba did not respond to a request for an interview. The State Audit Office, which monitors government procurement, wrote that it found nothing irregular in the company's status.
It noted that "it is difficult to link a specific tender payment with a donation, [and] prepare a case about an administrative violation" and win the case in court.
The Enterprise Development Agency's Skhirtladze, who sits on the tender commission, attributed the lack of competition for Winery Khareba's bid to the fact that "the state does not make [wine] purchases frequently, and, therefore, it was a novelty for wine companies."
It was not, however, a novelty for Teliani Trading, the only other Georgian winemaker to participate in the tenders. The company, which dominates Georgia's retail market and sells wine in half-liter bottles, was founded by Archil Gegenava, a member of Saakashvili's United National Movement, the current government's chief rival.
Teliani initially underbid KTW in a November 2015 tender, yet did not respond when KTW subsequently lowered its bid. Teliani Trading did not respond to a request for further information.
KTW stated that details about its own participation are "confidential."
Source
To add this Search Box to your website, click here. Many designs are available.