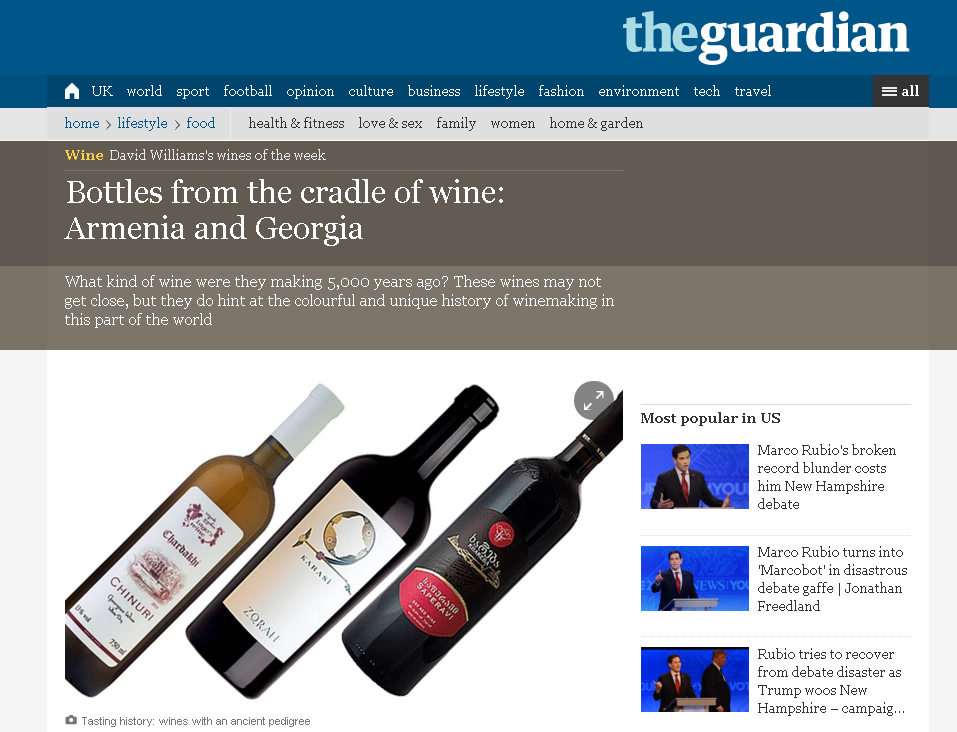 07.02.2016 (Hvino News). For the first time Georgian and Armenian wines appear together under a common title "Bottles from the cradle of wine".
Two wines from Georgia and one from Armenia are featured in a review published by British newspaper
The Guardian,
authored by wine expert David Williams.
Georgia and Armenia, two neighboring Christian nations with ancient wine-making traditions, are known for a long-time dispute over priority in being the world's "cradle of wine" (read, for instance:
Armenia and Georgia disagree over slogan "Cradle of Wine"
.)
This is why it is unusual to see publications which put wines produced in two countries together. However, from a Western European perspective Georgia and Armenia are often seen as countries with similar cultural and historical background.
For his "wines of the week" review David Williams selected Armenian Zorah Karasi Noir (the most expensive one: £22) and two Georgian wines: Iago's Chinuri (£16.65) and Khareba Saperavi (£10). The author is asking: "What kind of wine were they making 5,000 years ago? These wines may not get close, but they do hint at the colourful and unique history of winemaking in this part of the world".
Inadvertently adding heat to the Georgian-Armenian dispute, David Williams seems to take the Armenian side: "It was here, in modern-day Armenia, in 2011 archaeologists discovered the world's earliest winery, dating back to circa 3,000 to 3,500 BC". But he pays due tribute also to Georgia: "Clay pots ("karasi" in Armenian or "kvevri" in Georgian) are also used in some of the many exciting wines coming out of neighbouring Georgia, another country with a claim to being the birthplace of wine". Read the whole review
here
.
To add this Search Box to your website, click here. Many designs are available.