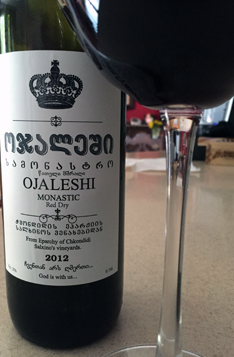 by Terry Sullivan
28.07.2015. Perhaps a divine intervention or fate led to events that make me wonder. Kathy and I were visiting Dadiani Old Cellar in the Shmegrelo region of the country Georgia. Monks own the property, church, mansion and winery. The grounds are beautifully landscaped. We enjoyed a tour of the entire property and settled in the cellar of the winery to taste what the monks call the Rolls Royce of Georgian wine – Ojaleshi. We throughly enjoyed the setting. A long table had a hole cut out in the center. Affixed to that hole was a qvevri filled with the almost black colored Ojaleshi wine. We could have spent hours there enjoying the camaraderie.
On our return to our vehicle, the monk that led our tour tracked us down and gave Kathy and me a bottle of Ojaleshi. It made it home to Maryland just fine, securely packed in my suitcase. For the past year, I pondered when to open the bottle. I was looking for the right time to seize the moment. This was not an ordinary wine, after all it was the Rolls Royce of Georgian black wines.
I seldom see Ojaleshi mentioned. Then last week a Facebook comment caught my attention. I wrote a blog post on my winemaking site about my qvevri wine made in Maryland. A comment was posted that showed the surprise that qvevri wine was made in the United States let alone in Maryland. I contacted Nina Kutaiselli, who wrote the post, and discovered that she is a film maker working on the film, The Land of 8,000 Vintages. As I learned about the film, I discovered that Nina wrote the quote, "Wine makes you lose your equilibrium, but helps you find yourself, I found myself in Ojaleshi, I become a filmmaker." There it is, Ojaleshi, fate or divine intervention?
Kathy and I met Nina and her brother Nick. They were born in Georgia and came to the United States when Nina was 15 years old and Nick was nine years old. Nina has returned to Georgia a few times. She also visited Dadiani Old Cellar and had their Ojaleshi. She knew she had to make a film about Georgian wine, especially qvevri wine. As Nina recounted her trip to Dadiani, I decided to open the Ojaleshi wine given to us by the monk from Dadiani. Our guests enjoyed the wine.
The Ojaleshi was a dark ruby to black color with a dark ruby rim. Dark fruits were on the aroma especially black cherry. The taste also had black cherries, plums and blackberries with a hint of earthiness. The full-bodied wine had tannins and a long fruity aftertaste. This grape grows 6,000 miles from Maryland. But for a moment the wine brought together two Georgian/Americans and two Americans that have come to love the country Georgia and its wine culture.
To add this Search Box to your website, click here. Many designs are available.