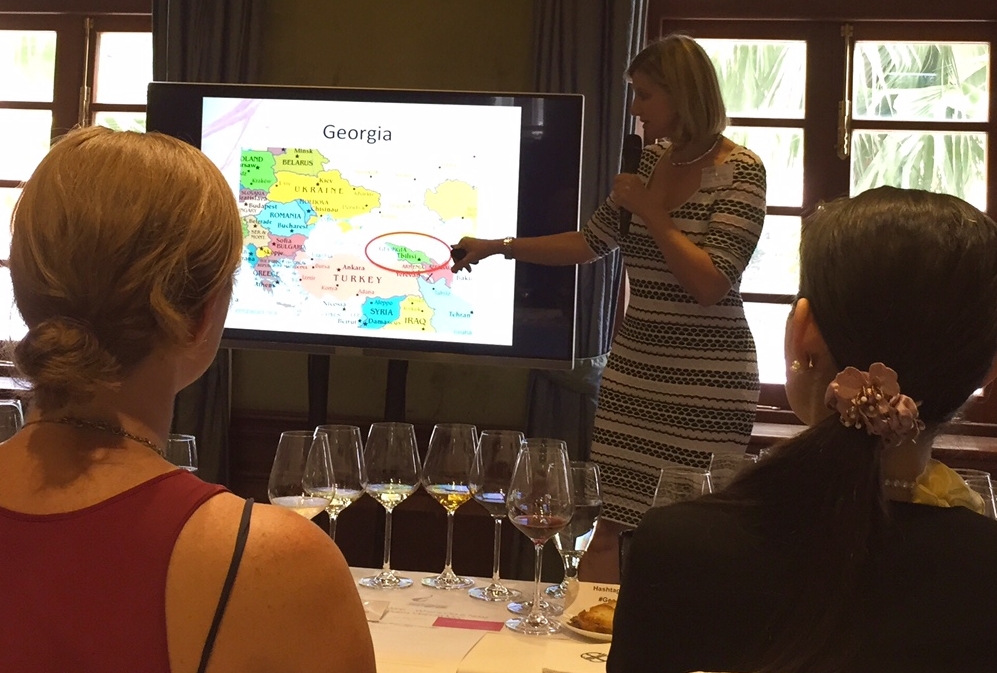 23.07.2015. Around 150 wine professionals, wine lovers and trade gathered on Friday, 17 July at Hong Kong's historic Hullett House for a historic tasting – the largest collection of Georgian wines on offer at once – hosted by Master of Wine, Debra Meiburg and Meiburg Wine Media, along with several visiting Georgian winery representatives.
Divided into a walk around-style tasting, a trade-focused seminar and an exclusive "dine with the winemakers" dinner, the event saw 40 different Georgian wines on offer to attendees, who ranged from the city's top importers, to food and beverage professionals, interested collectors and wine commentators (read also:
A taste of Georgia in Hullett House, Hong Kong
).
Debra Meiburg, Master of Wine and director of Meiburg Wine Media said, "We were thrilled at the enthusiasm to try Georgian wines and the positive feedback from the Hong Kong wine community. It really demonstrates the level of maturity of this market, which just over 10 years ago had a "Bordeaux or bust" attitude towards wine.
"Georgia holds a unique place in the wine world. With 8000 continuous vintages, it is arguably the birthplace of winemaking, and is so entrenched in Georgian culture that almost every farm has a vineyard. The depth of knowledge and experience is phenomenal. But, having almost exclusively exported to Russia for the majority of the last two centuries, it has, until recently been a "secret" from the rest of the world.
"One of the most interesting points about Georgian wine for the Asian market is its diversity of wine styles, made with exotic, uniquely Georgian varieties, such as Mstvane, Krakhuna and the stylish Saperavi. Georgia's use of ancient Qvevri clay vessels to produce amber-hued "natural wines" has already captured the attention of top-class sommeliers in the world's trend-setting cities and now it's Hong Kong's turn to showcase these wines. To see such interest in this tasting event was inspiring to me, a Hong Kong resident for over 25 years, who's watched the wine industry grow so significantly over this time."
The dinner segment offered the select group of attendees a unique food and wine pairing experience. Eight Georgian wines were paired with 10 Cantonese dishes in a mix-and-match-style dining format, where flights of wines were offered with multi-dish courses so guests could evaluate the best pairings for themselves.
For example, guests tested whether the roasted eel strip with Osmanthus sauce was best suited to a Rkatsiteli Qvervi, a Mtsvane Kisi or a Goruli Mtsvane, or if these wines were better paired with barbecue pork with honey or braised seafood soup with
conpoy
, among other dishes. This Cantonese food and Georgian wine pairing concept was a first for Hong Kong.
The response to Georgian wines at the event was overwhelmingly positive. When interviewed about their reaction to Georgian wines responses from members of the wine trade included, "very unique", "easy drinking" and "surprisingly complex", with one commenting "these are truly quality wines that are so different – it is great to have Georgian wines at last in Hong Kong".
With the traditional snack
Churchkhela
for tasting, Georgia's clay "toasting bowls" to sip from and Qvevri on display, guests were treated to a real taste of Georgian culture. Reactions to the event were positive with many people commenting they knew very little about Georgian wine before the event. It was "something totally different" said several members of the trade, while representatives of the food and beverage industry also commented that it was a "very unique experience in Hong Kong".
To add this Search Box to your website, click here. Many designs are available.