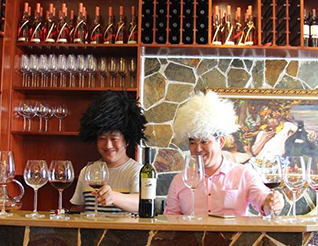 16.07.2015. Georgia's Agriculture Ministry is stepping up its promotion of the country's wine and winemaking culture in China; with the unveiling of a promotional centre and winemaking house during an official visit of the Agriculture Ministry to China.
The opening event for the centre, located in capital Beijing's Nutrition and Alcohol Research Institute, was led by Minister Otar Danelia and included a presentation and tasting of Georgian products. The event was attended by China's deputy agriculture minister, wine importers and industry representatives.
Danelia said the centre aimed to promote Georgian culture and winemaking and contribute Georgia's efforts to export its products to "strategic" markets. The centre will be led by vice president of the Institute, with a special coordinator contributing from Georgia.
In a separate ceremony in China's Zhagang province, Minister Danelia opened a Georgian wine house where 30 varieties of dry, semi-dry and semi-sweet wines will be represented.
According to Ministry data, wine made up 93 percent of the country's agricultural export, with around one million litres of wine exported to China "over the recent years".
Danelia emphasized it was very important for Georgia to deepen trade-economic relations with China.
"Georgian wine is distinguished by its uniqueness. Georgia produces 18 wines of local origin and one geographically indicated product –
chacha
. We can offer a wide variety of white, red and rosé wines. We are glad to see demand of Georgian wine is increasing in China," Danelia said.
Meanwhile a Chinese businessman recently opened a Georgian wine house in China. The man, who was not named, stressed the uniqueness of Georgian wine and its "distinguished taste" encouraged him to open a Georgian wine house.
He believed Georgian wine had "huge potential" to establish itself in the Chinese market. The entrepreneur intended to open the same type of Georgian wine houses and a Georgian wine museum in other cities of China.
Georgia will export 100,000 bottled of wine in the first stage of the partnership. Meanwhile, in August about 20 Chinese businessmen will visit Georgia to arrange meetings with representatives of Georgian wine companies.
In recent times Georgia has worked hard to diversify its wine import markets, and this was evident in the Agency's latest data. Export of Georgian wine had increased to "strategically important markets" like China, Eastern European countries and Canada, said Georgia's National Wine Agency.
Canada recorded the largest percentage increase (250 percent) in terms of volume of Georgian wine imported in the first part of this year.
From January to April 2015, China also experienced an 87 percent increase in its import of Georgian wine, claimed the Agency. In recent times Georgia has made an effort to penetrate the Asian wine market, and results were now becoming evident, said the Agency. This could further be backed up as exports of Georgian wine increased by 9 percent to Japan so far this year.
In total, from January to April, Georgia exported 7,978,749 bottles of wine (0.75 liter), valued at $23 million USD to 26 countries across the world.
Georgian wine has recently begun to make an impact in the Asian market and has featured at various wine
exhibitions
in Japan and China.
To add this Search Box to your website, click here. Many designs are available.