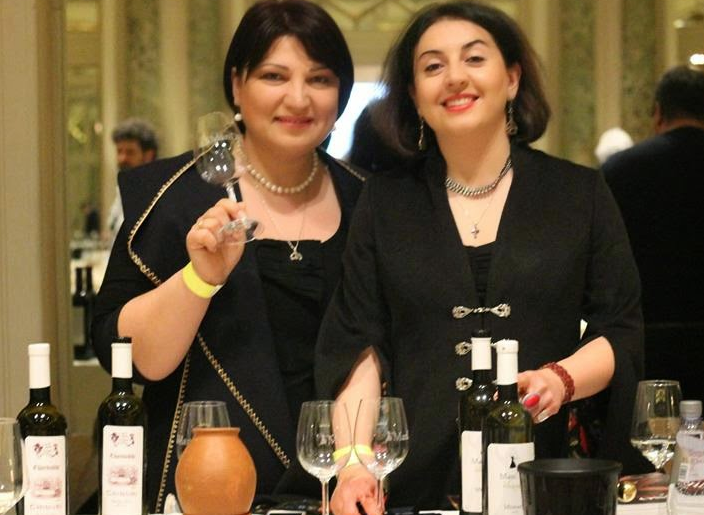 Photo: Sarah May Grunwald
by Sarah May Grunwald
01.05.2015. Last spring I met Georgia's first female owned wine company and have had the privilege of following them for an entire year, from vineyard to
qvevri
, to bottling. In Georgia, men have traditionally been in control of the 8,000 year old qvevri wine making process, so these women, along with another young woman named Mariam Iosebidze who started her own wine company in 2014, are at the forefront of a change in culture and attitudes towards women in Georgia. I have interviewed these women and tasted their wine and I would like to share their stories over the next few months. For now, a short introduction to the First Ladies of Georgian wine; Marina Kurtanidze and Tea Melanashvili of Mandili.
To preface, Tea is my very good friend, she is simply someone I adore, and Marina is a dear friend as well who is a force to be reckoned with. Besides friendship, they have been a big part of my shift in thinking about how women in the west view women in other parts of the world. In short, we believe that we have it better and that those "other" women are not as liberated. Before I went to Georgia, I was told that it was an extremely sexist country where women were not treated well and that, in fact, I should avoid going there. So during my first trip, I made a few cultural
faux pas
having this attitude in the back of my head. I met Tea at Vino Underground, a wine bar in Tbilisi that focuses on natural wines, and learned that she was one of Georgia's first female wine makers. I was intrigued. How could it be possible in this country? We tasted her wine, and I was hooked. Not only was I impressed with Tea for making strides in the wine world, I was impressed with her wine, Mandili.
Mandili was established in 2012 as a collaboration between two friends who were inspired by female vignerons- such as Elizabetta Foradori -that Georgian producers have met at the European natural wine fairs. Marina is married to Iago Bitarishvili of Iago's Winery, so she has been a part of the wine making process for her entire life in everything but name. In fact, it was her husband, Iago, who first encouraged Marina to make wine. The name Mandili means a ladies scarf (or veil), and their label depicts a woman dancing with a scarf. The team decided to purchase organic mtsvane grapes from Kakheti and bring them to marani in Kartli where they made their wine in qvevri. Their first wine was an incredible success, not only for the innovation in traditional wine making in Georgia but the wine was of extremely high quality.
To add this Search Box to your website, click here. Many designs are available.