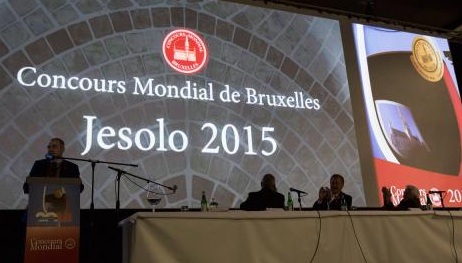 15.05.2015 (Hvino News). The results of the 2015 Concours Mondial de Bruxelles (CMB) have been released recently. The competition took place at the Italian sea resort of Jesolo on May 1-3.
Over 8,000 wines from 45 producer countries competed before a selection of the world's foremost tasters. 299 wine tasters representing 49 nationalities gathered for 3 days to judge entries. At the end of the competition, only those wines that have achieved the highest scores are eligible for the prestigious medals.
Georgian wines have won 4 medals: 2 Gold and 2 Silver (note that at CMB three types of medals are awarded: Grand Gold, Gold and Silver). The Georgian winners are:
Gold:
- Château Mukhrani Réserve du Prince - Goruli Mtsvane 2012,
Kartli, J.S.C. Château Mukhrani
- Mtsvane White 2014,
Kakheti, Schuchmann Wines
Silver:
- Château Lipartiani White 2012,
Imereti, Winery Khareba
- Krakhuna White 2014,
Imereti, Winery Khareba
Georgia's performance this year is good enough, but 2013 was much stronger, when Georgia won 10 medals at CMB, including 3 Grand Gold Medals (read more
here
). However, this year outperformed 2014, when Georgia won only 3 awards (read more
here
).
Founded in 1994, the Concours Mondial de Bruxelles has since then achieved the status of a world wine tasting championship. Since 2006, the Concours Mondial has broadened its international scope and is held outside Belgium. Lisbon, Maastricht, Bordeaux, Valencia, Palermo, Luxembourg, Guimarães, Bratislava and Jesolo have all provided prestigious backdrops for the tastings.
The 23rd Concours Mondial de Bruxelles will take place from April 29 to May 1, 2016 in Plovdiv (Bulgaria).
© Hvino News
To add this Search Box to your website, click here. Many designs are available.