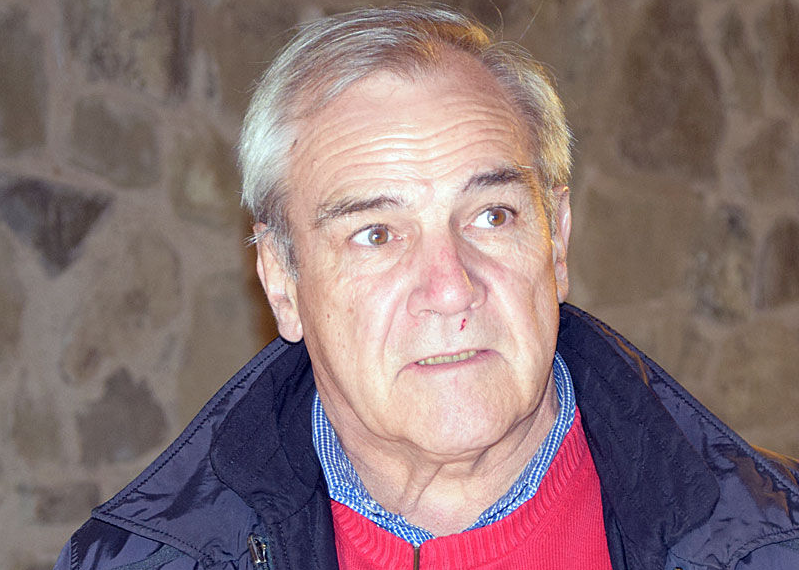 Photo

Hilarius Pütz
by Rudolf Knoll
12.05.2015. Georgia is probably the oldest wine country in the world. Grape seeds found there suggest that wine was first produced there 8,000 years ago. But tradition did not protect from the turbulences the region has experienced during the past decades. Now Hilarius Pütz, who was born in the Moselle region, is to promote viticulture in this country located in Eastern Europe.
Since 1985, times have been hard enough in Georgia. At that time Georgia belonged to the Soviet Union and cultivated over 100,000 hectares of vineyards. But then head of government Gorbachev wanted to fight alcoholism in the Soviet Union, so he also targeted viticulture. By then Georgian wine had almost had cult status in Moscow and other Soviet metropolises. But due to the restrictions many vineyards had to be given up. Then the Soviet Union broke apart. In 1991, Georgia became independent but first it experienced a civil war, and in 2002 an earthquake.
Yet, viticulture slowly began to recover. Just over ten years ago, Georgian producers even presented themselves at the Düsseldorf ProWein fair, supported by the GTZ (Gesellschaft für technische Zusammenarbeit, Society for technical collaboration), which is still active in Georgia as GIZ ('i' stands for "international")
[read more here: Stefanie Maak: "I envy Georgians..."]
. The business with Russia almost flourished like in the Soviet Union. But as head of state Michail Saakaschwili flirted too much with America and did some other things with which he unpopularized himself in Moscow Russia imposed an embargo against agricultural products. This measure preliminarily affected viticulture because by then about 80 percent of the production have been sold in the big neighboring country. Additionally, in 2008, there was an act of war with the vastly superior Russians – it was for all these reasons that viticulture in Georgia did not really bounce back.
Meanwhile there is again a series of working wine cellars, partially based on investments from abroad. Among these investors, there is Burkhard Schuchmann, a former German businessman, who together with a Georgian partner has established a considerable wine estate in the Telavi region as from 2006. Hilarius Pütz, who was born in 1952 in Wiltingen an der Saar, a famous wine village, came to Georgia in 2007 and took over the management of the traditional Bagrationi sparkling wine cellar.
In the agenda of the 63-year old, there is much experience in large companies. The state-certified technician for viticulture and cellaring has been working in managerial capacities at large wineries like Schmitt & Söhne, St. August, Carl Reh, and others before he became a self-employed counselor for the repudiated Willmes Anlagentechnik (equipment technology), established a sparkling wine cellar in Cricova (Moldova) and extended his counseling spectrum by occupations in other east European countries.
After he got in touch with the Bagrationi sparkling wine cellar, founded in 1882, at the Stuttgart Intervitis he was hired by them and immediately introduced a series of innovations. He established a vine nursery, which most recently in 2014 sold as many as one million of vines. Bagrationi bought vineyards to cultivate them on their own so as to become independent of grape suppliers and to get better material for the production of sparkling wine. Pütz worked hard, gave a fresh impetus to the company, increased above all the quality of the sparkling wines produced by classical bottle fermentation. But he used his leisure time to establish together with his family a small wine estate. As he is a foreigner and under the new government is not allowed to buy land he is officially working as counselor and master cellarer for the Avtandil Bedenashvili wine manufacture, which is cultivating five hectares with Georgian grape varieties like saperavi, kisi, and rkatsiteli. He already achieved to place the first wines on the German market, at a retailer specialized on Georgian wines (Geovino, Hamburg).
Pütz is tough, strong-minded (that is how in 2007 he overcame a far-advanced intestinal cancer) – and a passionate action man. When he became aware that at Bagrationi he could no longer move things he changed to counseling and was committed by a German consulting company (which is acting for the GIZ) with the task to establish a dual education in the area of wine as well as a wine competence center. Hilarius Pütz has held the license to teach necessary for many years. One of the partners is the Bayerische Landesanstalt für Wein- und Gartenbau (Bavarian State Institute of Viticulture and Horticulture, Veitshöchheim, Franconia). In parallel, he is to elaborate a wine controlling system, to establish a cadaster, to check the vines present for purity of variety (in Georgia, there are about 500 different varieties which often are grown side by side in vineyards).
The future possibility to gather yields more exactly is also a measurement to avoid cheating. Moreover Pütz is to dedicate himself large-scale to wine production in qvevris (amphorae). This method has meanwhile become somewhat popular in the production of white and red wines in Western Europe and is traditionally used in many wineries in Georgia. There the wines remain on the mash in the burnt clay floor amphorae for a long time. So the wines obtained (both white and red wines) are somewhat headstrong but often exciting, tannin-emphasized. But often there is a lack of hygiene, and even the acknowledgement by the UNESCO cannot change this: Since 2013, this particular method of vinification is listed as immaterial cultural heritage.
The Moselle man is aware that viewing the difficult mentality of many people within the wine scene he took over difficult tasks. The Georgians' reputation as hosts is great but dynamic collaboration is not really one of their major strength. Pütz summarizes the first few months: "We're on a good way, but we again and again have to overcome the spokes put in our wheel." Currently he is hoping the economically and politically difficult situation not to affect viticulture in Georgia too negatively. Since the embargo has been lifted the neighbor is again the largest purchaser by far for Georgian wine. In 2014 the export rate increased to over 60 percent (38 million bottles). The currency used is the dollar. But currently Putin and co. do not have unlimited access to dollar.
Source
To add this Search Box to your website, click here. Many designs are available.