05.10.2014 (Hvino News).
"It can be said without any exaggeration that the vine and wine are equal to identity of a Georgian man", Prime Minister Irakli Garibashvili said in Alaverdi Monastery, Kakheti region, on October 4, which was celebrated as the National Wine Day for the first time - at Prime Minister's initiative.
Mr. Garibashvili noted that Georgian wine will become country's image product and that each Georgian will be proud of that product. According to him, the boundless love and devotion to vine is truly unique in Georgia.
While the cabinet ministers led by Prime Minister went to Kakheti, another celebration took place in Tbilisi Marriott hotel, which hosted a presentation of the first wineglass made by Austria's Riedel specifically for Saperavi wine.
The event was organized by the Georgian Sommelier Association and National Wine Agency, and attended by the capital's Mayor, Davit Narmania.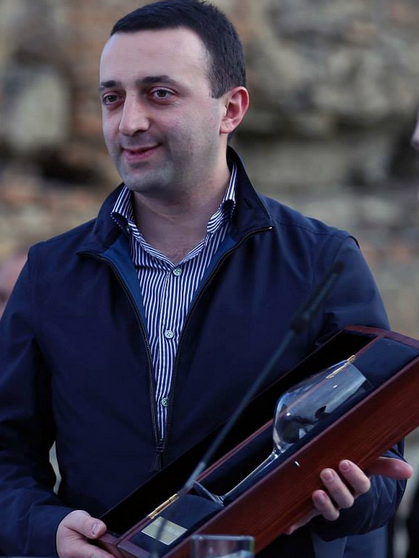 Prime Minister I. Garibashvili
Photo: PM's Press Service
History of Saperavi wineglass's birth will become an important episode for the TV serial about wine that is being directed by director and actress Nana Jorjadze, who also attended the presentation.
"Today's event lays the foundation for a new tradition, a new date – by the government's initiative, we launched the National Wine Day, which is being celebrated for the first time today. I hope that in the future this day will become a tradition and a truly national holiday. We decided to found this day because of the ancient and unique history of wine culture.... Georgian wine-making history is intertwined with the history of the Georgian people. It has been known for decades that the vineyard has the oldest cultural footprints in Georgia," said the Prime Minister.
He also reconfirmed the government's decision to build the wine museum, as a place to preserve the Georgian wine-making traditions.
© Hvino News
|
■
DRINK GEORGIAN!
To add this Search Box to your website, click here. Many designs are available.