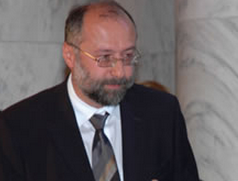 Georgian Wine House's Mamuka
Tsereteli
07.10.2014. Blue Danube Wine Company, a premier importer of fine wines from the "Danubia" region of Europe including Austria, Hungary, Slovenia, Croatia, and, most recently, Georgia, is proud to announce its strategic partnership with Georgian Wine House of Washington D.C. The two companies will share expertise and knowledge with the purpose of strengthening market presence for both Georgian and "Danubian" wines.
"We are very happy to establish this relationship with Blue Danube Wine Company," said Georgian Wine House owner Mamuka Tsereteli, "We have seen their dedication to countries of similar origin over the years and it's a natural partnership." He continued, "Working with Blue Danube not only means access to the important Californian market, but increased distribution in New York and other key US markets."
The first key producers of this collaboration are Teliani Valley and Schuchmann. Teliani Valley is one of the top Georgian wine producers delivering great value wines made from indigenous grapes. The wines paint a clear picture of the country's modern winemaking potential.
The wines from Schuchmann offer a spectrum of grape varietals and production methods. Modern, Western-style wines are labeled Schuchmann, reflecting the name of the German owner Burkhard Schuchmann, while the traditional method
qvevri
(amphora) wines are branded as Vinoterra. A true combination of history and innovation.
"This was a logical progression for us," said owner of Blue Danube Wine Company, Frank Dietrich, "For over ten years we have been traveling down the Danube, so to speak, importing wines along the way, and we've now reached the place where we meet the Black Sea. Georgia is the cradle of winemaking with an arsenal of over 500 native varietals. Today we have witnessed a renewed excitement in the region as it undergoes a dynamic renaissance. We are thrilled to be part of this rebirth by bringing these unique wines to our markets while sharing the story of Georgia."
Press Release
To add this Search Box to your website, click here. Many designs are available.