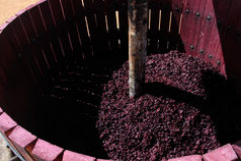 29.10.2014. The Georgian government is taking a tougher stance on the country's currently relaxed regulations on wine productions and making it illegal for wine producers to sell the grape pomace, a grape residue left after making wine.
In particular, the wine producers will be obliged to use the pomace, according to today's resolution of the Prime Minister.
The government believed the new rules acted as a preventive measure that would further protect the wine sector and eliminate the production and distribution of low-quality wines.
Chairman of the Agriculture Committee of the parliament of Georgia Giga Agulashvili believed there were occasions when pomace had been produced for secondary use. "Furthermore, it was resulting in adding sugar and water to the pomace and low quality of wine being produced," Agulashvili said.
The MP believed the resolution would encourage the production of pomace oil and use of pomace as a bio-fertilizer.
The National Agency of Wine will monitor the processes at Georgia's wine producing companies.
Source
To add this Search Box to your website, click here. Many designs are available.