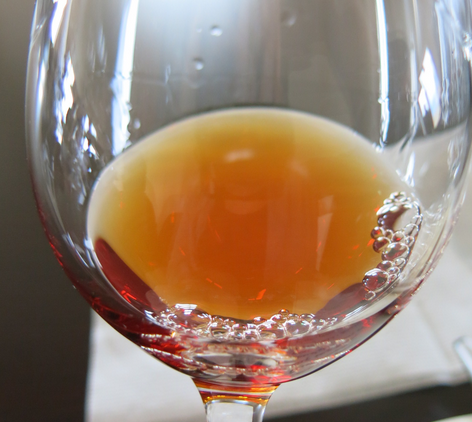 by Jeanette Hurt
15.10.2014. Not quite red and not quite white, orange wines draw from the world's oldest winemaking processes—but they're striking a fresh note with today's curious oenophiles.
Aromas of apricot fruit tickle the nose, but a sip reveals heavier tannins, and a rich, almost velvety mouth-feel lingers. Not quite white and not quite red: Viniferous conundrum, thy name is orange.
"Orange wines are the new black," says Shelley Lindgren, co-owner and wine director of San Francisco Bay–area SPQR and A16 restaurants. "The only problem is that they can be grossly misunderstood. There really is no definitive way to characterize orange wines, because they are essentially a white wine produced with a red-wine sensuality."
The definition of orange wines has been debated frequently at forums like this year's RAW wine fair in London. Fundamentally, their classification derives not from the type of grape used but from the winemaking process. Orange wines are white wines that are skin-fermented like reds. But unlike red wines, which are fermented for a period of 10 days to one month, orange wines can be fermented from two weeks to seven months.
"Orange wines have the freshness of whites with the structure of reds," says John Wurdeman, owner of Pheasant's Tears winery, which has vineyards in the Kakheti and Kartli regions of the country of Georgia. "So they can be compared to both white and red wines, but they are their own genre."
Georgia is considered the birthplace of orange wine. Referred to as the original winemakers, Georgians have used citron-shaped clay vessels, called
qvevri
, to make wine since 6000 BC. These vessels were lined with molten beeswax and buried in the ground to stabilize temperatures. Over time, as viniculture spread,
qvevris
were replaced with barrels, which gave way to stainless steel tanks. The exception: Qvevris are still used to make orange wines.
The unusual aging process, which extracts phenols, tannins and antioxidants, produces orange-tinged hues that range from golden honey to deep amber. The colour varies with the type of grapes used (Pinot Gris, Rkatsiteli and Grenache Blanc, to name a few), the length of time spent in skin fermentation, and the method of aging, says Jessica Bell, a certified sommelier and wine educator who has consulted for Georgian wineries. "This is the oldest way of making wine," Bell says. "But people who are looking for something new are really surprised by orange wines."
While they've always been the wine of choice within Georgia, this method of winemaking didn't attract much interest elsewhere until Italian winemaker Josko Gravner visited Georgia in the early 1990s. He returned with some
qvevris
and made Georgian-style orange wines using Friuli grapes, thus drawing more attention worldwide to orange wines.
Besides Italy and Georgia, Slovenia and Croatia also make orange wines, and over the last five years, adventurous winemakers in the United States have gotten in on the action. "People making orange wines, by their nature, are more experimental," says William Allen, winemaker and owner of Sonoma County's Two Shepherds winery. Allen himself made orange wine from a blend of Roussanne and Marsanne grapes in 2011. He even makes an orange-style wine from a grey grape called Trousseau Gris—it looks like a rosé but tastes like an orange wine.
In the Willamette Valley of Oregon, Johan Vineyards winemaker Dan Rinke and winery owner Dag Sundby spent the spring of 2007 tasting Italian orange wines like Gravner and Radikon. "We kind of fell in love with them, and we were taken by their uniqueness," Rinke says. "We make a Pinot Gris, so I suggested trying to do a little something different with it."
Their trials have resulted in very different types of orange vintages. "The '09 had a lot of lees in it, and it smelled like pumpkins," Rinke says. "The '11 and '12 vintages have hints of baking-spice aromatics. We're now starting to do a fraction of it with carbonic maceration [the fermentation of grapes in a sealed vessel full of carbon dioxide], and that tends to bring out more cinnamon and nutmeg notes."
As a genre, orange wines tend to have dried-fruit notes like apricot and peach, as well as a lot of nuttiness and caramel aromas. "Orange wines are great to use in pairings," says Emily Larkins, wine director at Craigie on Main restaurant in Cambridge, Massachusetts. "They're amazing wines to use as a bridge between different elements on the plate." Larkins says these wines work well with caramelized onions, nuts, cheeses and game birds, thanks to their richness in texture.
That tactile aspect turns some people off. "They're wines that tend to showcase texture rather than fruit," says Jared Hooper, wine director at LA's Faith & Flower restaurant. "Those who favour orange wines love the style, but detractors claim the uniqueness of the terroir and the grape is lost—that the elegance of the grape is masked by the winemaking process."
Orange wine aficionados, however, believe winemakers are just beginning to explore this process, and the wines are cropping up in places such as Chile and New Zealand. "They're not for someone who orders Sauvignon Blanc every day," Bell says. "They're for an adventurous wine drinker, someone who's open to something new."
Winemakers to Try
Pheasant's Tears
Kakheti and Kartli, Georgia
The wines here are all farmed organically and vinified naturally, "with nothing taken away and nothing added," says winery owner John Wurdeman.
Alaverdi Monastery Cellar
Telavi, Georgia
Orthodox monks continue to use an 11th-century wine cellar and traditional Georgian practices to produce their orange wines.
Pyramid Valley Vineyards
North Canterbury, New Zealand
"This biodynamic winery uses something like a qvevri, but they don't bury it," says U.S.-based wine importer Chris Terrell.
Gravner
Gorizia, Italy
Josko Gravner's orange wines are some of the best-known in the world, but he prefers the term "amber," and he does use sulphites to refine his wines.
Johan Vineyards
Willamette Valley, Oregon, U.S.
Drueskall, made from Pinot Gris, means "grape skin" in Norwegian. Winery owner Dag Sundby hails from Norway and exports his wines back home.
Two Shepherds
Santa Rosa, California, U.S.
Boutique Sonoma winemaker William Allen calls his skin-fermented wines Centime, after the French word for "cent."
Santé
!
Source
To add this Search Box to your website, click here. Many designs are available.