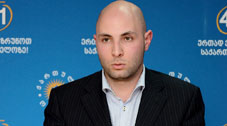 by Tatia Megeneishvili
26.06.2014. The Georgian Dream (GD) has released a statement in response to the statement of the State Audit Monitoring Service. According to the statement, the coalition gave the donated money back to Dugladze Wine Company and Geospirtprom. Press speaker of GD Giorgi Gegetchkori said that they returned the money after the Audit Service informed that a law was violated by the donation made by the wine-producing companies.
Gegetchkori said that the election entity is not obliged to control donations. "The account is open and anyone who wants can donate money," Gegetchkori stated.
According to the State Audit Monitoring Service, companies founded by Russian citizens donated money to the Georgian Dream during the pre–election period.
According to the head of Political Parties' Financial Monitoring Service, Zurab Aznaurashvili, Geospirtprom, as well as the Dugladze Wine Company, donated 20, 000 GEL each to the Georgian Dream on June 20. That was violation of the law prohibiting donations from the citizens of foreign countries.
According to the Executive Director of Transparency International Georgia, Eka Gigauri, those companies who donate money to political parties, especially the one in office, mainly win the state declared tenders.
"When we talk about the major party, it must be controlled how the donors companies are treated after the elections during tenders," Gigauri stated.
Geospirtprom as well as Dugladze Wine Company will have to pay a fine for undertaking the illegal donation.
Source
To add this Search Box to your website, click here. Many designs are available.