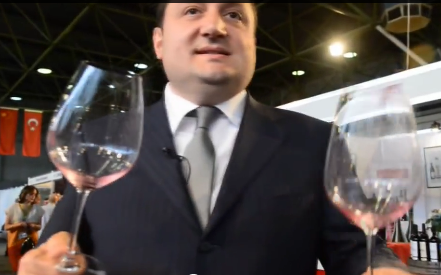 23.06.2014. An interview with president of Georgian Sommelier Association Shalva Khetsuriani.
- Georg Riedel , the owner of the Austrian company Riedel, the world's leading manufacturer of wine glasses, visited Tbilisi. He participated in the work on the exclusive glass for saperavi along with well-known winemakers, sommeliers and experts. What decision was made?
- A prototype of the glass for saperavi was designed and currently under development.
- Who was involved in this process and when it will be completed?
- Up to 100 sommeliers, wine experts participated in the work. The next step is the selection of a particular glass, which will take place by the end of the year.
- Are Georgians included in this group?
- The Georgians are completely involved in the work on design.
- What is the purpose of the creation of an official glass for saperavi ?
- Promotion. The main species in the world have such a special glass. Clients drink wine from special glasses specially designed for particular wine in all high class restaurants. This is the highest league of species. We want Georgian wine, for example saperavi, appear among famous wines such as cabernet. An exclusive wineglass will be designed for Georgian Kakhetian
qvevri
wine as well.
- Who provides the funds?
- Of course, funds are required. Riedel signed a contract with the Sommelier Association; the National Wine Agency also supports us.
- "Georgia's Socio - Economic Development Strategy 2020" contains 20 percent growth in export from 2014 to 2020. Experts say that this increase will be mainly due to the export of wine. Do you agree with them?
- Thanks to marketing strategy developed by the National Wine Agency, I do not exclude the possibility that our wine sales will rise sharply. The National Wine Agency carries out the right policy.
-In your opinion, insufficient marketing activities have been carried out so far?
- Structured policy did not exist; marketing activities were not carried out in the markets. There were some episodic, small events while a targeting strategy did not exist. It started about 1.5 years ago, so if this continues, then we'll have a good indicator.
- Does the Agency help in finding new markets?
- Yes. It is important that the Agency has its own marketing policy. It takes maximum measures to popularize Georgian wines abroad.